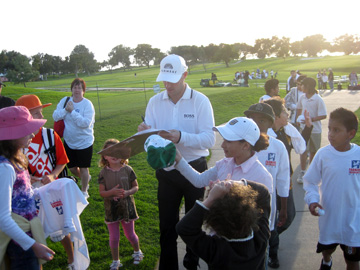 Ben Crane, defending champion of the Farmers Insurance Open, was seemingly everywhere Tuesday at Torrey Pines.
Crane joined many of his peers in the morning on the driving range, then he stroked a few putts on the practice green before heading out at noon for a few practice holes on the South Course. Later, Crane made his way to the media tent to answer a few questions, like: How challenging is it trying to repeat as tournament champion?
"I'm not really expecting a lot this week," said Crane. "What are the chances that someone actually defends their title when they're not Tiger Woods? It doesn't happen very often.
"My goal this week is to enjoy the week. We've got a lot of close friends here, and it's going to be a beautiful tournament. The weather is fantastic. My goal is to look at the ocean a lot, thank God for creating this place and putting me in this place and just enjoy the weekend. Kind of not try to expect too much from golf."
After that gathering, it was off to another one with an audience full of questions. On the No. 4 hole of the North Course Crane hosted a golf clinic for more than a 100 youngsters. He passed on pointers to the kids, awed them with a few trick shots and afterwards autographed everything and anything they offered for his signature (as talented as these players are at hitting a golf ball, it's even more impressive that they can sign legibly on something round with dimples).
As big a presence as Crane has been at Torrey since winning — his picture is plastered on the program and on signage throughout the venue — kids have a way of keeping one grounded.
Crane walk toward the clubhouse as he signed autographs when one of the children asked, "What's your name again?"
"Ben Crane," he said. "What's yours?"
"Jaden," came the reply.
Jaden, like the other children, came away with a Farmers Insurance hat and T-shirt as well as a golf ball. And perhaps something else that he may not realize for a few years.
"This clinic shows that golf is more than just a game," said Kevin Kelso, a Farmers Insurance spokesman. "It builds character and discipline — traits that will serve these young people well in life."
Said Crane: "The focus, the commitment to excellence and the sportsmanship of the game have helped me achieve success, both on the course and in my personal life. Being able to share some of these important lessons with local youth is humbling and enriching."