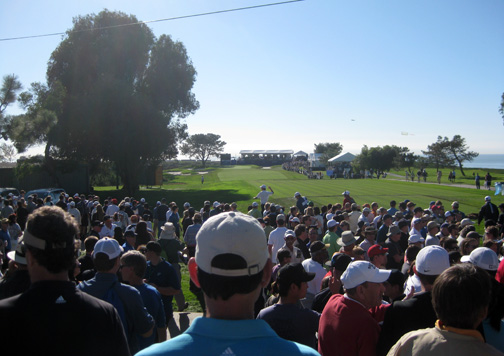 Fans packed the stands behind the 15th green on the South Course at Torrey Pines and lined the ropes that fence off the green and fairway as the group that included Tiger Woods, Rocco Mediate and Anthony Kim approached during Friday's second round of the Farmers Insurance Open.
One young man, probably one of the more resourceful fans and certainly one of the most agile, scaled a tree to get a better view of things.
"Perfect," said the teenager. "I can see the tee box from here and everything."
A moment later a marshall looked up and said, "You can't be in the tree there. I'm sorry."
Tournament officials try to be as accommodating as possible for spectators. Within limits. And mindful of liability. The youngster returned to earth and followed his father to another spot behind the green to get a glimpse of the proceedings. They — along with perhaps 20,000 others on the grounds — enjoyed another day of beautiful weather, good times and great golf.
There was a Tiger sighting, as expected. Unanticipated was when Phil Mickelson's group spotted some snakes. Animal Planet would be interested to know that there was even mention of monkeys. Just another day at the Farmers, which could be a zoo come the weekend the way things are going.
Kim excited the crowd early with birdies on each of his first four holes. Woods matched the feat with birdies on the third through sixth holes. They, along with everyone else, are looking up to leader Bill Haas, who birdied three of his first five holes and shot a 6-under 66. It was good enough to go 11-under for the tournament, two strokes better than Kim (who carded a 67) and three shots better than seven other players (Mickelson, John Daly and defending champion Ben Crane among them). Woods shot his second straight 69, putting him five shots off the lead.
It was on the tee box at No. 9 on the North Course where someone in Mickelson's group spotted a couple rattlesnakes tangling with each other down in some canyon brush below. Next thing you know, players and caddies are on a nature excursion, momentarily captivated like little boys. Soon enough it was back to the task at hand.
And the monkeys? Kim can explain that.
"I've always loved animals," said Kim. "I have two dogs at home, and I've always wanted monkeys."
So he got a pair and named them Craig and Deebo, after two of the characters in 'Friday,' one of his favorite movies. Kim said he originally got the idea for the pets while watching another movie, 'Dunston Checks In.'
"I saw that when I was little," he said. "And I said it would be pretty cool to have a couple of monkeys. I was playing golf like one, so I figured what better time than to buy them now."
As thousands will attest, Kim is playing now like one of the best golfers on the PGA Tour.
The field has been trimmed nearly in half, to the 79 players who made the cut at 1-under-par. The first groups for Saturday morning's third round go off the South Course at 7:40 a.m. Kim is in the final group with Haas and Fredrik Jacobson, teeing off at 9:50 a.m. Mickelson tees off 10 minutes before with Bubba Watson and Rickie Fowler. Woods' tee time is 9:10, in a group that includes Kevin Sutherland and Jhonattan Vegas.