Happen to be in the "anti-Valentine's Day" mindset this year? Looking to impress your new special someone? Want to spice things up and really wow your love? Then check out these Valentine's Day restaurant recommendations!
 The Top Spots for Singles, Couples and New Relationships
 Singles: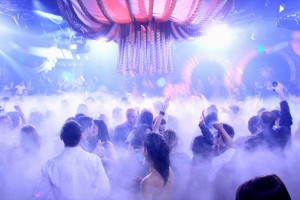 Sammy's Woodfired Pizza
What better way to spend the holiday (or escape it!) than among your girl friends. Avoid the couple-filled restaurants this Valentine's Day with Sammy's Take-Home Pizza Kit, complete with Sammy's signature fresh pizza dough, homemade tomato sauce, mozzarella cheese and a choice of your favorite toppings. Sammy's Take Home Valentine's Day Pizza Kits are available Feb. 7 – 14 at all Sammy's locations for $5.00 – $8.00 for traditional, whole wheat or gluten-free crust; extra toppings are and additional price.
RA Sushi Restaurant Bar
RA Sushi is heating up on Feb. 13 with a singles-only Meet Market. Eligible bachelors and bachelorettes can strut their stuff as they peruse the selection of San Diego's finest bachelors and bachelorettes. The fun starts at 6PM with a live version of The Dating Show in the cocktail lounge and goes until close. Singles can get RA with $5 Singletinis, X-Rate Margaritas and $7 "Cuter by the Sake Samplers." RA will be serving "Love Me" food and sushi rolls costing under $10.
FLUXX
You may arrive at San Diego's best nightclub single, but you could leave with a date!  FLUXX nightclub is celebrating Valentine's Day with celebrity guest Bob Sinclar, legendary DJ/producer, performing hits 'Love Generation', 'World Hold On' and more. Let FLUXX be your date this year and visit Event Vibe to purchase tickets. Pre-sale tickets start at $20.00.
New Relationships/First Date: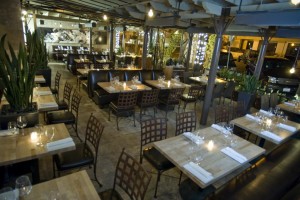 Roppongi Restaurant & Sushi Bar
Romancing a new crush or trying to impress on the third date- celebrate the day with a delectable prix-fixe menu at Roppongi Restaurant & Sushi Bar. For $48.00 per person, couples are treated to a three-course prix-fixe menu that includes mouth-watering creations inspired by the sea, and for those looking to elevate the evening, Chef Warren offers an aphrodisiac item for two, the Ocean of Ecstasy trio with Uni, Oyster and Sea Scallops.
Whisknladle
Whisknladle believes in everyday romance and that a night full of romance starts with great food. For Valentine's Day, Whisknladle is skipping the prix-fixe menu and doing business as usual. Put your date at ease, spark up some convesation and some romance and they will serve up what they love – great, simple, tasty, seasonal food.
Searsucker
On Valentine's Day, Searsucker will be celebrating Love Day 2011 with a laid-back, homely dinner. Love Day 2011 will be a day to impress that crush and to seduce them through their palate. The Love Day 2011Prix-Fixe menu consist of raw, hot, fresh, bold, and celebratory food items that will make your date swoon. Love Day 2011 is $88 per person, does not include tax or tip, and reservations are welcomed.
Couples: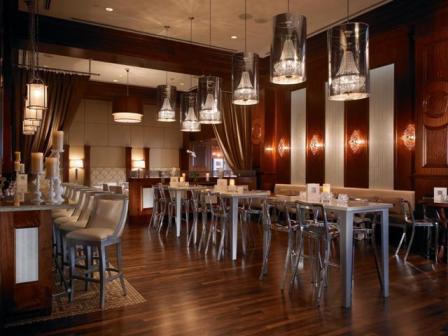 Grant Grill
Gentlemen, they've got you covered with dinner, music, dessert, and yes, even a present for your Valentine. Live music and dancing will be available Feb. 11 – 13 and a five-course prix fix menu will be served featuring an array of elegant cuisine and a tasty desert. Top-off dinner with a treat for your special someone – a heart pendant specially created for the US GRANT. Dinner, dessert and pendant are $95.00 per person. Reservations required.
Flavor Del Mar
Valentine's Day shouldn't be a one-day celebration and Flavor Del Mar gets that. Flavor Del Mar is having a week-long romance catered to you and your honey. This romantic and mouth-watering menu is available Feb. 11 – 18 and offers multi-course choices created by Chef Jason Maitland. Dishes will be fresh and truly flavorful and don't forget to seek wine advice from Sommelier Jerome Astolfi and enjoy the stunning views. Three-course dinner menus are $55 per person. 
El Bizcocho
El Bizcocho is offering a four-course decadent Valentine's Day menu for $75 per person or $115 with wine pairings. Say "I love you" through the art of fine cuisine and treat your love to a tasty dinner and decadent dessert with surprising twists.
Brockton Villa Restaurant
The 117-year-old La Jolla beach cottage sets the scene for the romantic four-course prix-fixe dinner at Brockton Villa. Romance your valentine with the La Jolla Cove views as you dine on this special day. The fireplace and oceans views will set the warm and romantic mood for the delicious dinner and grand finale desert. Then, walk-off dinner, hand in hand, with the scenic La Jolla Cove as your background. The four-course dinner is $55 per person and includes a glass of proseco.
Sheraton San Diego Hotel & Marina and Harbor's Edge Restaurant
The Sheraton San Diego Hotel & Marina is offering a complete Valentine's Spa package that will be sure to spoil that special someone. The package includes a one-night stay with two complimentary champagne splits accompanied by chocolate covered strawberries. Lovers can relax with a $100 spa credit (per reservation) and an additional 50% off with the purchase of a second spa treatment. The Valentine's Package price is $169 and is valid through Valentine's weekend, Feb. 10 – 14. The rate does not include tax.  After the romantic and relaxing spa treatment keep the passion alive and court your honey to the Valentine's 3-course Dinner at the hotel's Harbor's Edge Restaurant, $65 per person. Before dinner your valentine will be welcomed with a chivalrous hand picked rose.
 Courtesy of the lovely ladies at J Public Relations