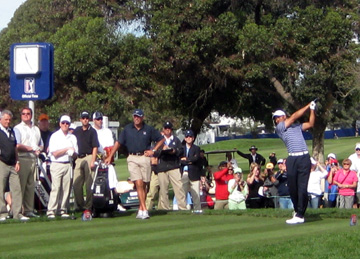 The last time Tiger Woods walked the grounds of the Torrey Pines Golf Course was during his 2008 U.S. Open playoff victory. It was just Woods, Rocco Mediate and about 30,000 fans who made the surroundings seem more like a rock concert than a golf tournament.
Woods returned Wednesday morning — and so did the crowds.
Maybe not 30,000, but, heck, this was only the pro-am. The four-day tournament begins Thursday morning. Woods is again paired with Mediate — hmmm, that seems like more than just a coincidence — and young Anthony Kim in a group that tees off at 9 a.m. on the 10th hole of the North Course.
Most of the pros had a handful of people — perhaps a dozen — following them during the pro-am. Hometown favorite Phil Mickelson's gallery was the largest, numbering into the hundreds, before Tiger stepped to the tee. Upwards of 800 people gathered when Woods went off Wednesday on the South Course's 10th hole. It seemed like each one of them was holding up a camera — or a camera phone — to record the moment. They knew to get their pictures while the getting was good. Spectators are allowed to take photos the first three days of the week, then it's left to the professionals. To limit the distraction of shutters and flashes going off at inappropriate times, only media members are allowed to photograph the players once the tournament begins.
Tournament officials expect the presence of Woods — who missed the 2009 tournament recovering from a knee injury and last year's event because of personal problems — will bring an additional 30,000 spectators out for the event.
He brings out an extraordinary number of people to chronicle his exploits as well. The interview area was expanded this year in the media tent in anticipation of Tiger's participation. Nearly two dozen television cameras, a dozen still photographers and 70 writers filled the room to overflowing for his morning press conference.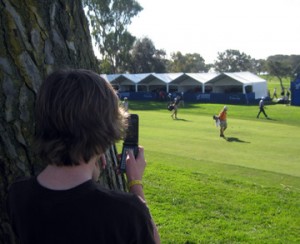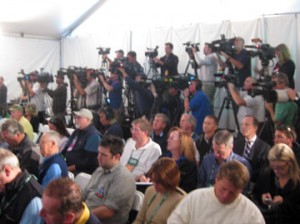 That's Woods' rock-star status on the Tour. How's this for a contrast: Jhonattan Vegas, fresh off Sunday's victory in the Bob Hope Classic, entered the interview room a minute after Woods departed. By the time Vegas settled into his chair, all but three of the TV cameras had been packed up and fewer than a dozen reporters remained seated.
Woods was on the tee 90 minutes after the press conference. Several cheers greeted Woods when he was announced at the start of his round. And people were still buzzing 2 1/2 hours later as he came up the 18th fairway. Woods' second shot on the 570-yard, par-5 hole sailed over a pond, bounced a couple of times before trickling into the bunker beyond, causing one fan to exclaim, "Who the heck hit that?"
Who else?
Reaching the green in two shots on the hole — especially with the pond guarding the green — is a quite feat, even for the pros.
After Woods chipped on and putted out, it was on to the No. 1 tee, where he quickly hit and was on his way again.
"Oh, I just missed him," said one disappointed fan who walked up as Woods made his way down the first fairway. Not to worry. There will be plenty of opportunities to see him and the other 155 players entered in the tournament.
Woods said he holds a special place in his heart for San Diego in general and Torrey Pines in particular.
"I came down here and watched Andy Williams (the tournament's sponsor from 1968-88), so for me this was the first PGA Tour event I've ever seen," said Woods, whose father Earl brought him to the tournament as a youngster. "It obviously goes way back for me. . . . I played here as a junior. I came down here and played the South Course when I was 7 or 8. So it goes way back for me.
"It means a lot to come back down here. I have so many friends and family down here that come and watch. Coming to this event means a lot to me."
Woods has won this event six times, including four straight titles from 2005-08.
"Having him back is a great plus for this tournament," said Mickelson. "He has kept this field strong and kept the interest in the event television-wise, media-wise, very high. His presence has been great."
And how does Mickelson expect Woods to play this week?
"I expect that he'll be the Tiger that we've known for over a decade," said Mickelson, adding with a laugh, "Unfortunately."