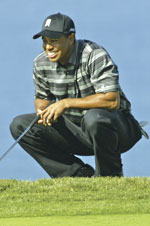 As expected, Tiger Woods will open the 2011 season at Torrey Pines in next week's Farmers Insurance Open.
Tiger made it official this morning with a Tweet — and a roar — writing on his Twitter account: "I've been working hard on my game, it's game time hooah!!"
Woods returns to Torrey Pines for the first time since his stirring victory over Rocco Mediate at the 2008 U.S. Open.
Golf fans have a chance to get their first glimpse of Woods and the rest of the players during practice rounds Monday and Tuesday and a pro-am event on Wednesday. The first round of the four-day tournament is Thursday, Jan. 26.
Woods did not win an event last season, losing his grasp on the world's No. 1 ranking. But he showed steady progress with his game late in the season — working with swing coach Sean Foley — and concluded the year with a second-place finish at the Chevron World Challenge.
On his Web site this morning, Woods said: "I feel a lot more comfortable about the changes we have made. Hopefully, my good play at the end of last year will carry over."
Woods has won the event at Torrey Pines six times in the 11 years he has entered — including four straight titles from 2005-08. Woods was unable to defend his title in 2009 because he was still recovering from reconstructive knee surgery. He was absent last season while dealing with personal problems.
Tournament executive director Tom Wilson said the event has averaged about 125,000 fans each of the past two years in Woods' absence. His presence is expected to bring another 25,000-30,000 fans to the course.