History that literally flies off the pages is my kind of history! The spectacular Centennial of Naval Aviation (CONA) is coming to Coronado this Saturday. The 'Crown City" is gearing up for thousands of expected spectators to view an historic "Parade of Flight," featuring over 200 aircraft – from vintage planes to the famous Blue Angels. It'll be the largest naval aircraft flyover since WWII… yep, you'll be telling your grandkids about this one!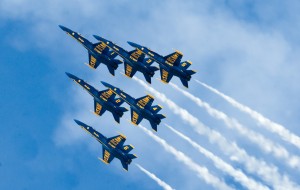 Coronado is where naval aviation began, in 1911, when aviator/inventor Glenn Curtiss trained a Navy officer to fly a seaplane from the sandy, formerly scrub-covered isle.
Following are five fun – mostly free – things to do in (and just off) Coronado to celebrate this momentous occasion:  
See you Saturday in Coronado for the big Centennial of Naval Aviation launch!