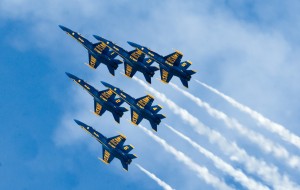 1. The Navy is celebrating 100 years of naval aviation in a big way this weekend. On Saturday, February 12th, the Navy will showcase its "Parade of Flight" with more than 200 planes flying over Coronado and the Bay. It will be the largest naval flyover since WWII! Be sure to check out the Union-Tribune's special section that gives viewers tips on best spots to view the flyover as well as a viewer's guide to aircraft.
2. With museum month in full swing, the New Children's Museum is featuring a fun KidFunk Family Festival on Saturday. The festival runs from 10 a.m. – 4:00 p.m. and will feature award-winning musical talent, dance crews, and a unique animal presentation by Wild Wes and the San Diego Zoo. It includes special appearances by Rhythm Child, Egg, and Super Galactic Beat Manipulators, culminating with an interactive Karaoke and DJ session.
3. It's the year of the Rabbit, and you can celebrate at the 29th Annual San Diego Chinese New Year Food and Cultural Fair Saturday and Sunday. This free, family friendly event will feature lion and dragon dancers, martial artists, acrobats and musicians at the intersection of 3rd Avenue and J Street. No matter what zodiac you were born under, there will be plenty of fun for the whole family as they celebrate the most exciting Chinese holiday of the year.
4. This weekend in Balboa Park, Circus Vargas has set up its Big Top Tent. Arrive early for the free Preview Show, and join Jon Weiss as he invites kids of all ages into center ring to learn juggling, feather-balancing and hula-hooping. Circus Vargas unites skilled performers with clowns that actually make you laugh. They will be in Balboa Park from February 10-21.
5. Start your Valentine's Day off early and take your sweetheart to see Jane Austen's Emma A Musical Romantic Comedy currently playing at the Old Globe. Deliciously charming, this new romantic comedy from Tony Award-nominated composer Paul Gordon and directed by Tony Award nominee Jeff Calhoun brings Jane Austen's classic story to musical life. Playing through February 27th.