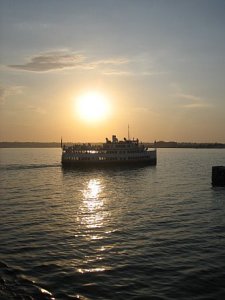 1. All month long, 40 museums throughout San Diego are 50% off during San Diego Museum Month! From the San Diego Air & Space Museum to the Oceanside Museum of Art, you can definitely get your culture on. Be sure to pick up your pass at any Macy's in San Diego County. It's a great time to try your favorite museum or something new.
2. I love having a three-day weekend; that extra day allows me to do something I wouldn't normally have time for. This weekend I'm going to the Little Italy Mercato on Saturday (weather please hold up). With over 6,500 farms in San Diego County, there is always plenty of fresh fruit, vegetables and other goodies to be found at Farmers Markets.
3. The 21st Annual San Diego Jewish Film Festival runs through February 20th. Some of the films playing this weekend include "The Matchmaker" and "Who Do You Love".
4. Did you know that Friday, February 18th is going to be a full moon? Take a romantic full-moon dinner cruise on a Hornblower yacht and enjoy dinner, champagne, music and dancing under the stars and the beautiful San Diego skyline.
5. One of our staffers recently saw "Superior Donuts" playing at the San Diego Repertory Theatre through March 6. She said it was both a funny and poignant play set in a 1960's donut shop. Eat before you go, otherwise you may be drooling over the donuts during the show!