My Saturday mission was simple: to view the once-in-a-lifetime Centennial of Naval Aviation (CONA) "Parade of Flight." Despite warnings of historic crowds along San Diego Bay and gridlock, I ventured one spot I thought, "Hey I'm a local, no one will think of going there."
Um, I was wrong… by a long shot! Thousands of folks figured as I had that Cabrillo National Monument high atop Point Loma would provide one of the best vantage points in the city to view 200 aircraft on parade – from vintage planes to the magnificent Blue Angels – zooming above the bay, hugging the shoreline of Coronado and NAS North Island and then out to the sparkling Pacific Ocean.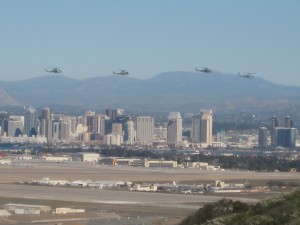 As far as the eye could see, cars and people with binoculars and cameras lined the road – from Fort Rosecrans National Cemetery to the entrance of Cabrillo which was closed and filled to capacity. Luckily, as I made a u-turn at the ranger station, I snagged one of the last remaining parking spots on the shoulder. Alas, front-row seats were mine!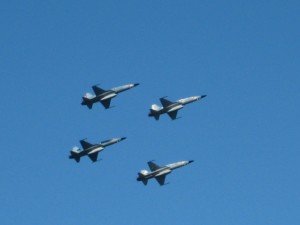 For the next hour and a half I peered proudly into the crystal-clear blue skies as 100 years of naval aviation history flew into my birds-eye view.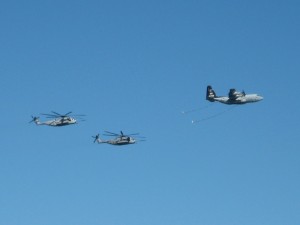 These are a few of the best pics I took, including the mile-wide, V-shape formation finale of 35+ planes from the USS Stennis aircraft carrier that flew right over our heads (and into the history books!). In a word: WOW!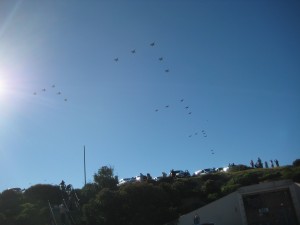 The Navy posted an awesome video highlighting the day's festivities on Coronado, where an estimated 70,000 visitors packed NAS North Island! Equally impressive was the San Diego Union-Tribune's report on the parade's "masterful" aerial choreography.
Though the Parade of Flight is history, you can still earn your wings! CONA festivities continue with the impressive "Wings of Gold" exhibit  at the Coronado Museum of History & Art, plus "Project Home Front" spotlighting naval aviators' homes on the island.