It"s always fascinated when I come across someone who has been bitten by the golf bug. I enjoy finding out the how, the why, the when and the where for someone consumed by the game who is pursuing it with passion.
I met Jake Keeslar on the putting green Saturday morning at the Rancho Bernardo Inn. Before we reached the first tee he said: "I"ve kind of set the goal for myself this year to shoot consistently in the 80s. Keeslar said his low round is an 89 (twice) at Camp Pendleton"s Marine Memorial Golf Course, so it is an ambitious goal.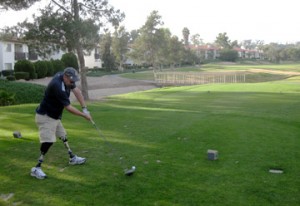 The 18 holes that followed at RB Inn on an enjoyable, springlike afternoon confirmed my suspicions — Jake has been bitten by the bug. He spoke exciting about obtaining the latest driver from TaylorMade. . . . He mentioned Mt. Woodson as among his favorite places to play in San Diego. . . . After a chip shot landed within a couple feet of the flagstick on the 13th hole, he credited a recent tip about keeping the ball forward in his stance. . . . Poor shots were met with an audible groan. . . . There was talk of attending a golf academy in Carlsbad in the fall.
While Keeslar played some golf while growing up in Big Bear, which is a couple hours north of San Diego, he didn"t online casino really get into the game until after "I was blown up" while serving in Iraq. Keeslar lost both legs — his left above the knee and his right just below the knee — five years ago while on a mission in the Anbar Province when the vehicle he was riding in was demolished by a deep buried IED. During his recovery and rehabilitation at Walter Reed Army Medical Center, Keeslar was encouraged to go golfing by his prosthetist, an avid golfer who took him to a course called Sligo Creek in Silver Spring, Md.
"When it comes to amputees, golf"s great for balance, coordination and stamina," said Keeslar, adding, "Just getting out of the hospital. It"s so much for your mind."
Keeslar played three times last week at Camp Pendleton, which he noted is open to the public. Military members get preferred tee times, but the Marine Memorial Golf Course civilians can play for $30 weekdays and $35 on weekends, plus $12 for cart. The Monday special includes half price greens fees. For tee times or more information call (760) 725-4756 or go to www.mccscp.com.
Pendleton is Keeslar"s home course, but that could change within the next two weeks when he retires. He is building a home in Fallbrook and enjoys the municipal course there. He appreciates Mt. Woodson for the mountain setting and its tight track. He enjoys Torrey Pines and finding himself playing some of the same shots the pros play. He also likes Arrowood Golf Course in Oceanside, although Keeslar was headed out to Morgan Run in Rancho Santa Fe (which will be hosting the Cox Celebrity Championship in May) when I caught up with him Monday morning. He considers himself fortunate to have settled in San Diego. Guess why?
"The amount of days you can play golf," said Keeslar. "You can get 360 days of golf out here."
And he seems intent on doing just that.