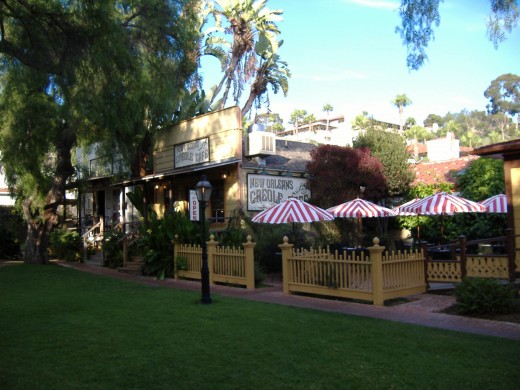 Who would have thought that San Diego would be home to the largest Mardi Gras celebration West of the Mississippi?
But, it's true, the Mardi Gras in the Gaslamp festivities draw thousands to downtown's historic Gaslamp Quarter each year to let the good times roll.
Maybe it should't be such a surprise. Both historic waterfront cities boast strong Catholic heritage and unique cultural influences that spice up our language and cuisine. In fact, speaking of food, in San Diego you don't even have to wait until Fat Tuesday to satisfy your cravings for N'awlins style cajun and creole flavors.
These Louisiana-inspired eateries dish up spicy fun year round:
A New Orleans Native, chef Bud Deslatte has been spreading the gospel of the cuisine of his hometown for more than 30 years in cities across the country. At Bud's Louisiana Cafe in Kearny Mesa, he's known for a menu bursting with authentic classics like the perfectly fried catfish plate which boasts a light, crispy cornmeal batter and the crawfish etouffee featuring a generous serving of crawfish tail meat pan sauteed with garlic, butter, thyme, and basil and tossed in a sauce of onions, celery, green peppers, and a light tomato roux. Pair it with an oyster shooter and you'll be feeling like king or queen of your own, personal krewe.
Nestled in the historic Old Town neighborhood, the New Orleans Creole Cafe is helmed another native of New Orleans with family dating back to the 1750s in Opelousas, just north of Lafayette. He's teamed up with a native Southern Californian to create this intimate, charming eatery where the menu is based on authentic Creole recipes handed down through seven generations. Favorites include a spicy jambalaya and hearty po'boys stuffed with everything from alligator sausage to golden fried shrimp. Perfect with an ice cold Abita beer!
Hillcrest's Gulf Coast Grill mixes it up by incorporating flavors from the south of the border and elsewhere along the Gulf of Mexico. So, with your hushpuppies gumbo, fried catfish and blackened prawns you'll also find a vegetable quesadilla with cilantro lime crema, pork chops with a spicy mango glaze and crab cakes paired with cajun rice and a black bean and corn salsa. Toast to this fiery flavor combo with icy, refreshing cocktail. Rum or tequila, your choice.
Bon appetit and laissez les bons temps rouler!