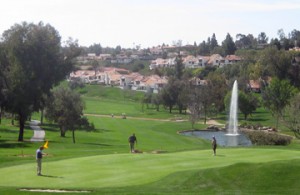 Standing in front of the scorer's table Sunday afternoon at Rancho Bernardo Inn, Steve Sitar reacted as if he had just won the Masters when results were announced for his flight in the San Diego Open, a two-day major on the Golf Channel Amateur Tour.
And that was for finishing third.
"Yes, I'm going to nationals," exclaimed Sitar, a 58-year-old engineer from Las Vegas. The top three finishers in the Senior Jones Flight all earned exemptions to the Tour's national championship event in September at PGA West in La Quinta.
It was a lot of excitement coming from someone who just shot a 17-over-par 89.
"I'm not Tom Watson," said Sitar, whose handicap is similar to what he shot. "I just do it for the fun of it. If I don't stink up the place, then I'm usually pretty darn happy."
That's the type of enthusiasm the Golf Channel Amateur Tour has generated among its players. They're treated like professionals in many ways — for example, their names are announced when they approach the first tee — but there is an Everyman quality that encourages all comers. The Tour has 12 different flights to account for every level of golfer, so there is competition within each grouping. Performances Sunday ranged from an even-par 72 shot by San Diego's Thomas Isaak at Maderas Golf Club to win the Championship Flight to the 62-over-par 134 one golfer recorded in the Senior Snead Flight at Rancho Bernardo Inn. The 20 he carded at the par-4 ninth hole didn't help, but that's another story (eight balls in the water? Really?).
Sitar said he was encouraged to join the Tour last year by his son, who is also a member. He has enjoyed the competition and the variety of courses he's been able to visit.
"These courses are gorgeous," said Sitar, who played Maderas on Saturday before concluding the weekend at RB Inn.
"Here I shot an 89 and I thought I could easily have shot an 84," said Sitar, sounding strikingly similar to the PGA pros when they recount their rounds. Sitar was proud of back-to-back pars at 16 and 17, but he double bogeyed the par-5 18th. He's not alone there. The 18th is a challenging finishing hole, stretching well over 500 yards, the last half of it uphill with water on the left, fed by a stream that fronts the hole's tiered green. There's plenty of opportunity to give away strokes before sinking the day's final putt.
Ah, well. Sitar takes it in all stride. In fact, afterwards he sounded as if he was working up material for a Vegas lounge act.
"Some of the golfers take it a little more seriously than I do," said Sitar. "I take it like Lee Trevino. I want to win, but I golf for one reason only — beverage cart girls."
Then he added: "I don't make my living at golf. I spend my living at golf."