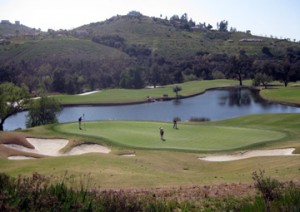 One of the major stops on the Golf Channel Amateur Tour is this weekend's San Diego Open. It's a two-day, 36-hole event played at Maderas Golf Club and Rancho Bernardo Inn. There are 21 states represented in the 180-man field, which is divided by handicap into 12 flights. Seemingly all of the visitors came here in search of some sun.
Pat Moore of Aurora, Colo., and Sean Brushett of Seattle, were positioned above the 18th hole at Maderas after completing their rounds, watching other groups finish and marveling at the weather (72 and sunny). Moore said Tour events don't get going in Colorado until the end of April. Brushett said they begin play in Washington three weeks earlier, but still "it will be wet and cold. Of course, it's like that most of the time."
David Saxon of Farmington, N.M. said he couldn't have picked a better place to play his first Golf Channel event: "With it 40 degrees back home, I couldn't resist."
Saxon, 41, owns a business called Sandia Hearing Aids and said he signed up for the Tour because he found himself spending too much time working.
"I joined to get me back into golf and get my handicap down," said Saxon, who plays to a 15 handicap. He shot a 98 on the par-72, 6,555-yard Johnny Miller-designed course at Maderas. He felt fortunate to avoid triple digits after shooting 54 on the front. Saxon put the driver away on the back nine and carded a 44.
"The fairways are so narrow," said Saxon. "I realized I was using the driver too much."
Saxon called Maderas one of the most difficult and challenging courses he's ever played. It's certainly much different than what he sees back home in New Mexico. There were the narrow fairways and some blind shots. There were the canyon holes that created some difficulty judging distance. And there's the price to be paid for leaving shots short — or long.
Said Moore: "It's unforgiving. I'll bet I took six to eight penalty strokes (going out of bounds). But I loved the challenge."
Moore, 61, who also was eager to get out of the Colorado cold. Now if he could just get his game to warm up. Moore, a 22-handicap, failed to break 100 at Maderas. He should fare better Sunday at Rancho Bernardo Inn, where errant shots have more room to roam.
Brushett shot an 88 at RB Inn on Saturday, then came over to Maderas to get another look at the course before playing it on Sunday. He shot 85 at Maderas in a practice round earlier in the week.
"You play for bogeys and if you pepper in some pars it's a good day," said Brushett, 43, an executive who joined the Tour two years ago and is playing in his 20th Golf Channel event.
The lowest score of the day was a 2-over-par 74 by Roland Rivera of San Diego in the Championship flight, which includes golfers with handicaps of 3.9 or lower. It was one of 20 scores in the 70s at RB Inn, where most of the lower-handicap flights played on Saturday. They move to Maderas for Sunday's final round. Rick Labrum of Murrieta, playing in the Senior Hogan flight (handicaps of 8 to 12), had the lowest score at Maderas on Saturday with a 10-over 82.
Here's more on the Golf Channel Amateur Tour.