Spring Break has come and gone, but to ensure those postcard images of San Diego linger on through Memorial Day – and to put folks in a summertime frame of mind – following are five fun activities to try in Coronado that are just "beachy"!
BTW, forecast for this weekend: clear skies and warm!
Let's soak up the sun: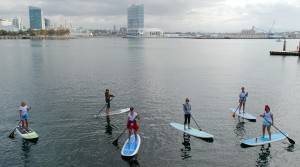 Take a stand… Stand up paddle boarding! This popular past time is often seen in the calm waters of San Diego Bay or just beyond the surf line of Silver Strand Beach and Coronado Beach. For first-timers, lessons are available from Loews Coronado Bay Resort's on-site Coronado Surfing Academy and Gnarly Neal's at the Hotel del Coronado.

Silver Strand walk on the wild side.

Go wild… On a ranger-led nature walk at Silver Strand State Beach – one of the top 10 beaches in the world and home to some amazing tideland and shoreline creatures, including sand dollars, crabs, snowy plovers, pelicans and the mysterious grunion fish. You may even spot a dolphin hanging 10! Tours depart every Saturday and Sunday, 9:30 – 11:30 am, from the lobby of Loews Coronado Bay Resort.

Bicycle built for... four!

Wheel fun… Surrey biking! Bicycles built for two to four people, are a great way to sightsee around the island. The beach and bay boardwalks are the most scenic routes. Rentals available throughout the island, including Bikes & Beyond at the Coronado Ferry Landing, Wheel Fun Rentals at Coronado Island Marriott Resort, Loews Coroando Bay Resort, PeDels at the Hotel del Coronado and Holland's Bicycles on Orange Ave.

Finding Zen in the sand.

Chill out… with yoga on the beach. Visitors can find some serious Zen on the sands of Coronado Beach during a session with the Hotel del Coronado's Hatha Yoga instructor. Altogether now, "Ommmm…"

S'mores on Coronado Beach - sweet!

S'more fun… Roasting marshmallows around a bonfire on Coronado Beach, Tidelands Park or Silver Strand State Beach is a sweet way to end a perfect beach day in Coronado. Guests at The Del can indulge in their very own s'mores on the beach experience with a cozy fire pit and all the fixins (marshmallows, graham crackers and chocolate) provided!