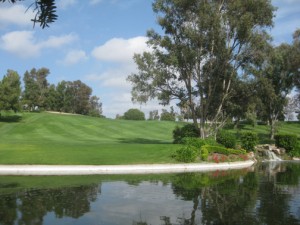 Maybe there's no such a thing as a free lunch. But how about a full buffet breakfast that comes with unlimited golf? That's what's being offered at the DoubleTree Golf Resort, where golfers can enjoy breakfast anytime from 6:30 am to 10:00 am before playing 18 holes (cart included). Then play again. And again?
I'm always looking for a deal and this is one of the best I've seen in some time. It's only $39 Monday through Thursday ($45 on Friday, $65 on Saturday, $55 on Sunday), which is relatively inexpensive simply for 18 holes of golf. Throw in breakfast, free replay and also use of the DoubleTree's practice facility and I'm in.
DoubleTree, located in North San Diego County just off the Carmel Mountain Road exit from Interstate-15, features a par-72, 6,428-yard course. Bermuda grass is featured on both the fairways and greens, which are well maintained. There is water to hit over off the first tee on the Arnold Palmer-managed course, but sand is the most prevalent hazard to avoid.
Golfers who enjoy hitting the driver for everything it's worth off the tee – but don't always know where their drive is going – will be glad the course wasn't wrapped around a housing tract. Errant drives frequently find themselves on another fairway rather than in someone's back yard. There are rolling hills that make for a few blind shots, especially approaching three or four of the greens, but golfers will be loaded with course knowledge by the time they return for a replay. Another thing to be mindful of is where to position the ball off the tee because some of the fairways slope toward the freeway.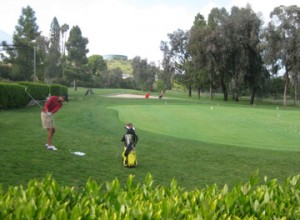 Here's an insider's tip: Replays are subject to availability, so make an early tee time that will allow you to begin your replay between 11:30 am to 12:30 pm, which is the course's slowest time of the day (It gets busier at 1:00 pm when member's club players begin teeing off). Bonus tip: For those who sleep through breakfast, there is a special after noon for $29 (Monday through Thursday) that includes two drinks.
Here's a link to the DoubleTree golf website. Golf and/or hotel reservations can be made by calling 858-672-9100 or 800-222-8733.