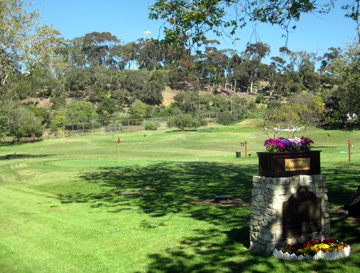 For those accustomed to playing a full-length championship golf course, Presidio Hills Golf Course may not seem like much at first glance. But dismissing it would be a big mistake.
"It's a special place," said Presidio head golf professional Paul Bush. "There's a lot of history here."
Presidio is one of the oldest par-3 courses in the country. It was built in 1932 under the direction of notable golf course architect William Park Bell, who didn't make a hole over 100 yards — the 94-yard fifth hole is the longest — but did use the hollows and hills to provide a challenging short-game experience for advanced golfers without discouraging beginners.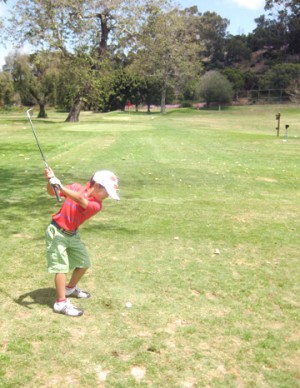 The clubhouse, known as La Casa de Carrillo, is a registered Historical Landmark. Home to Josefa Carrillo after being built in 1802, it is the oldest adobe dwelling in San Diego. Even if you're in a hurry to get on the course, make sure to spend a few minutes reading the newspaper clippings on the wall. You'll be interested to learn about the course's history as well as the notable players whose footsteps you're following.
The roots to San Diego's renowned junior golf program run through Presidio. And, in fact, the course hosted some of the best junior golfers in the world from 1968-2002 in the 10-and-under flight of the Junior World Golf Championships. Phil Mickelson won a title there in 1980, Tiger Woods won in both 1984 and 1985 and Lorena Ochoa won in 1990, '91 and '92.
Bush said Mickelson still brings his children out to play the course now and then. Memories no doubt bring Mickelson back, but the relaxed pace of play is what appeals to many golfers.
"A lot of boyfriends bring their girlfriends," said Bush. "And, of course, families. This is a huge family place. Our goal is to share it with people, get them here and get the course back to where it should be."
The city-owned course was operated by the Abrego family for more than 70 years. It fell into disrepair over the past decade under different management. New general manager Justine Lee has been the driving force behind improvements to get the course back in shape. He had the 11th, 12th and 13th holes rerouted, the tee boxes improved and greens redone, fresh signage put in place and some equipment replaced, all indications of the course again being cared for. Bush is making an effort to expand play for tournaments and special groups, but what he really enjoys is introducing kids to the course. Junior clinics and lessons and summer classes are available to local kids as well as those visiting from out-of-town with their parents. Information is available by calling the course at 619-295-9476 or going to the Presidio Hills website.
A grand opening party was held by the new management at Presidio on Saturday to reintroduce the course to the community. Among the children and families enjoying the afternoon during Saturday's grand opening party were a couple of tourists from Phoenix. Joseph and Ann Lemaitre's visit to Presidio Park for 18 holes in the afternoon seemed as important as the one they had planned later in the day to PETCO Park to watch the Phillies and Padres for nine innings.
"We really enjoy the course," said Joseph Lemaitre. "We try to play here whenever we come to town."