A few months ago I revealed some little known places around the "Crown City" of Coronado that many folks hadn't heard of. During a recent media tour I discovered a few more secret and not so obvious spots around the island worth checking out.
Following are my five hidden gems: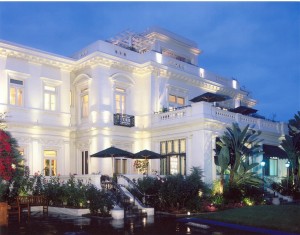 Stare down… The stately Glorietta Bay Inn is a treasure trove of behind-the-scenes areas that guests rarely – or never – see. In addition to a basement and sub-basement (how low can you go?), there's an inconspicuous door leading to a hidden passageway on the first floor. Within the secret alcove a three-story staircase spirals down from the top-floor Penthouse Suite. If these stairs could talk!

...secret spiral staircase.

Safe bet… What's better than a safe to stash your valuables? How about two safes! Last time I spotted Mrs. Spreckels personal safe in her former bedroom at the Glorietta Bay Inn, I thought that was the only one. But there's another, much grander vault tucked inside a closet near the top of the grand staircase. No telling what's inside, as nobody knows the combination.

Kate "checks out" (of) The Del.

Room with a boo… Many folks have heard of Kate Morgan, the Hotel del Coronado's famous ghost who supposedly haunts the resort. But do you know the exact room she stayed in before her untimely demise? Room # 3327 on the third floor, where narrow hallways only add to the spine-tingling feeling you get when exploring the recesses of this Victorian marvel.

Walk this way to...

Follow the yellow brick road… Actually, follow Star Park Circle to a humble abode hiding in plain sight (see photo below), the home of acclaimed author L. Frank Baum. He wrote two of his famous children's' books here, The Road to Oz (1909) and The Emerald City of Oz (1910). It's easy to see why he was so inspired by the "enchanted island" and The Del nearby.

Historic home of L. Frank Baum, 1101 Star Park Circle.

Fly boys… Did you know Coronado is an enclave for military retirees and home to some of San Diego's original Navy heroes? This Sunday (11:00 am – 4:00 pm), in conjunction with the "Centennial of Naval Aviation", the Coronado Historical Association spotlights six legendary naval aviators' houses during the Annual Historic Home Tour. Decked out domiciles include Vice Admiral James Stockdale's – one of the most highly decorated officers. Go Navy!