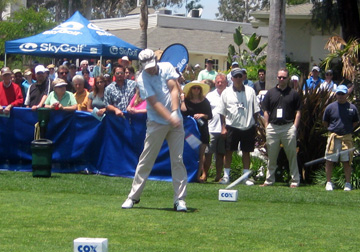 Ray Romano is two swings into his round Saturday in the Cox Celebrity Championship at Morgan Run and everyone can see he is already having swing thoughts.
After getting a big hand from the gallery with a big drive off the first tee (though the shot landed in the adjacent fairway), Romano's second shot finds a greenside bunker. As he grabs his sand wedge from his bag, Romano is approached by a young boy who asks the actor/comedian to sign a DVD collection of "Everybody Loves Raymond."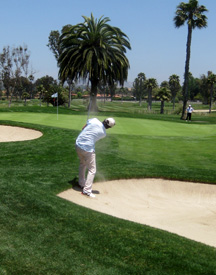 Romano obliges, then heads to the sandtrap. After sizing up his shot, Romano swings and gets too much of the ball, knocking it well over the green. "Kid probably wants to give me the autograph back now," cracks Romano, who needed several more strokes to finish the first hole.
Fans expect to see spectacular shots from players such as first-round leader Mark Mulder. The former pitcher shot a 4-under 67, two shots better than former outfielder Vince Coleman. NFL Hall of Fame running back Marshall Faulk and Dallas Cowboys quarterback Tony Romo were another shot back at 70 entering Sunday morning's final round.
Romano? He fared better after carding the triple bogey 8 on the first hole, but still was well behind the leaders with an 88. Unlike the others, the pressure on Romano isn't to impress the gallery with his shot-making but his wise-cracking.
"If I hit a bad shot, that's what they're expecting," said Romano. "They know I'm a hacker."
Golf is a difficult enough game without being interrupted between shots to sign autographs and pose for pictures, but Romano is more accommodating than most because he knows it's what fans are expecting at these charity events. It does put added pressure on his play, however.
"When I'm over the ball," said Romano, "I have two thoughts — I have the swing thought and the what-am-I-going-to-joke-about-after-my-swing thought."
Romano was quick with a quip when a shot went awry — entertaining the one- to two-dozen fans who followed him throughout his round — but he is serious about his golf. In fact, last year at this event Romano was working with swing coach Hank Haney to improve his game. Romano's goal is to break 80 for the first time in his life.
"It hasn't happened yet," said Romano, adding, "This is the course I've come the closest."
A three-foot putt on the 18th hole was all that stood between Romano and a 79 at Morgan Run a couple of years ago. "And I missed it," said Romano, who has been so busy with work that he hasn't had many opportunities the past year to pursue his goal.
"I've been playing 30 years, so I've had my chances," said Romano. "I don't get enough chances (now) to groove a game to get to that point."
So it will be left for art to imitate life. Romano stars now on the show "Men of a Certain Age," where he plays Joe, a party store owner with aspirations of playing golf on the Senior Tour. We'll find out how things go for Joe beginning June 1 when the TNT series resumes new episodes.
"That's a big part of his life," Romano said, referring to Joe's quest to reach the Tour. "That's going to be in the next six episodes that that's going to raise its head. He has to face an unfulfilled dream. He's putting it off and in denial and scared that he will fail and can't do it. He doesn't want to face the dream being extinguished, so it takes a little something to give him the push to actually go out and do it."