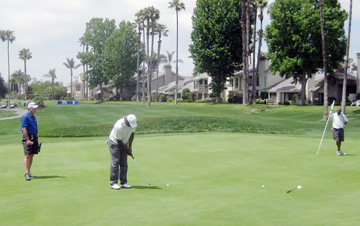 Scene and heard around the course on the opening day of the Cox Celebrity Championship at Morgan Run Resort and Club in Rancho Santa Fe:
— The atmosphere for this charity event is relaxed and fun, giving fans an opportunity to get up-close-and-personal with dozens of former and current players from across several sports. And while there is a $100,000 purse at stake, no one is here trying to make money to meet the monthly mortgage payment. It is interesting, however, to observe contrasts in players' approaches to the game. Take former NFL wide receivers Jerry Rice and Andre Reed, for instance. Rice, who has aspirations of playing golf professionally, already had his game face on an hour before his noon tee time. Walking from the driving range to another practice area to work on some sand shots, Rice waved off a fan wanting to make some small talk. "Not right now, man," Rice said. "I'm warming up." Reed, meanwhile, was encouraging spectators to speak up. "It's quiet around here," Reed said before teeing off on the back nine. "You all need to start talking." After a solid drive, Reed signed several autographs before getting into his golf cart and driving off. Looking at one action photo of himself presented for his signature, the former Buffalo Bills receiver said, "That's a good picture there. I might have scored on that one."
— NFL Hall of Fame place-kicker Jan Stenerud, who played the majority of his 20-year career with the Kansas City Chiefs, was greeted by a number of well-wishers and autograph seekers as he prepared to tee off on the 10th hole. Asked one fan: "How's your leg doing? Said Stenerud: "The leg is fine. My back isn't."
— Actor Jack Wagner, the event's defending champion, knows how Stenerud feels. Wagner was seen at the course but not on the course. Seems he tweaked something in his back and was forced to miss the first day of play. Sounds like he may need a trip to General Hospital for further examination.
— Speaking of place-kickers, former Chargers kicker Rolf Benirschke is playing in the event. His presence was duly noted by one of the two volunteers seated at the driving range. One gentleman was very impressed with the extensive background information provided on the players in the tournament. Reading through the bios, one said to the other: "I didn't know Rolf Benirschke hosted the Wheel of Fortune in 1989."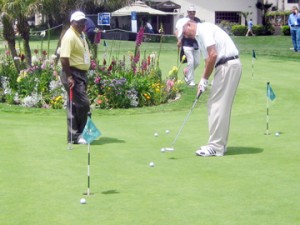 — Hall of Fame second baseman Joe Morgan wasn't having much luck finding the bottom of the cup on the putting green when former pitcher Rick Rhoden, a four-time champion in this event and runner-up last year, walked up and provided a welcome distraction. Morgan greeted Rhoden with a big grin and some small talk, then watched with envy as Rhoden stroked putt after putt into the hole.
— There's one in every crowd. Positioned off the side of the green on the par-3 18th hole was a fan who after each tee shot for one particular group shouted: "Get in the hole." To which another fan said as an aside, "I wish that guy would get in a hole."