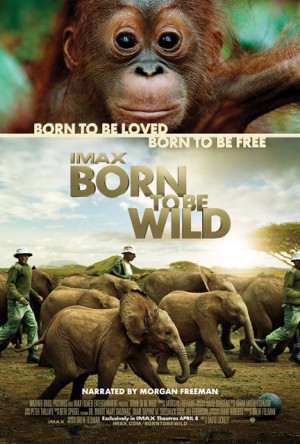 Last week, my kids and I were treated to a screening of the new IMAX film, "Born to Be Wild" at the Reuben H. Fleet Science Center. I was really looking forward to taking them to see the film and when we walked into the huge dome (BTW, the first IMAX theater in the world which opened in San Diego in 1973), I realized my kids had never been to an IMAX movie before (I know, shocking!) Needless to say, they were a little overwhelmed. But once the movie started, all was well, and they had a blast seeing the film in IMAX.
"Born to Be Wild" is an inspiring story of love, dedication, and the amazing bond between humans and animals. It's narrated by Morgan Freeman, and follows the lives of orphaned orangutans and elephants, from their infancy to their rebirth into the wild. The cinematography is absolutely amazing and the story is heartwarming. My son loved the orangutans and how funny they could be and my daughter thought the baby elephants were adorable. Who wouldn't? They are so cute! The film is currently playing daily at 6:00 p.m., but be sure to check their website for current hours.
The Reuben H. Fleet Science Center is a great place to take your kids of any age. In addition to their daily IMAX screenings, they have over 100 hands-on exhibits in seven galleries that will keep everyone entertained for hours.