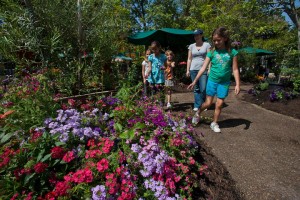 It's the middle of spring, and what better way to celebrate than with these festivals celebrating San Diego's blooms and buds.
1. Guests will have a full day of activities at the San Diego Zoo's Discovery Days: Garden Festival, May 5-8. Visitors can learn about the rare plants growing at the Zoo, which is a certified museum based on its rich horticulture, and partake in self-guided walking tours and botanical bus tours while enjoying special performances, scavenger hunts and more.
2. Starting today through Sunday, the Sage & Songbirds Festival takes place at the Viejas Outlet Center in Alpine. This annual celebration of Alpine's recognition by the National Wildlife Federation as "America's 1st Community Wildlife Habitat" features a plant and art sale, live butterfly exhibit and daily butterfly releases.
3. This one has my name all over it! The San Diego Botanical Garden is hosting a Chocolate Festival. This annual festival for chocolate fans features dozens of tasting, demonstrations, gifts and more. All in the beautiful setting of the Botanical Gardens. If you're bringing the little ones, be sure to check out the West Coast's largest interactive children's garden, the Hamilton Children's Garden.