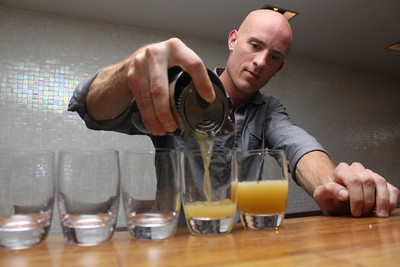 Are you looking forward to this weekend's San Diego Spirits Festival and the Ultimate Bartender Battle?
Over the last few months, San Diego's top bartenders have been battling it out for the right to represent their neighborhood in this ultimate showdown. This week, I'm sharing a couple recipes from the competitors.
Today we have the "Dear Rum Diary" from Ted Gibson at La Jolla's landmark George's at the Cove. This is the drink that snagged Ted top honors in the 'coastal battle' and it definitely captures that laid-back, coastal vibe:
2 oz Plantation Rum (Barbados 5 year)
2/3 oz Homemade vanilla bean/raw sugar syrup
2 Lemon wedges
3 Japanese shiso leaves
Start by muddling the lemon wedges and shiso leaves in a mixing glass. Fill that glass with ice and add the rum and vanilla syrup before shaking and straining into a cocktail glass over fresh ice. Garnish with vanilla bean pod fresh shiso leaves.
You'll probably notice that this drink is half the ingredients and 1/10th the work of yesterday's recipe. That's because Ted's focus was to create an original drink that was approachable, easily replicated and delicious in its simplicity.
The name, "Dear Rum Diary," is a reference to an early Hunter S. Thompson novel (The Rum Diary).  Set in Puerto Rico in the 1960's, it's a story of love, jealousy, and crazy, rum-fueled adventure.
Sounds perfect for our 'coastal' winner…and I can't wait to see what Ted whips up this weekend!