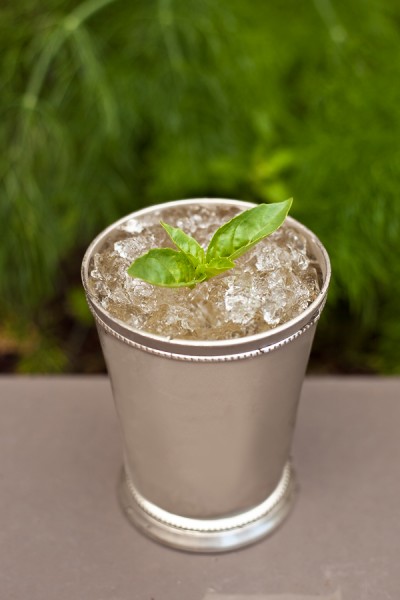 Cocktail Week rolls on toward the San Diego Spirits Festival with amazing specials on cutting-edge cocktails at some of San Diego's most legendary bars.
Certainly, the Grant Grill at the iconic US GRANT falls into that category. The 100-year old hotel has cocktail history on lock down (with prohibition era tales all its own) but continues to look to the future. They recently transformed their downtown rooftop terrace into an intimate garden farm, growing produce that inspires the seasonal culinary and specialty cocktail menus at the Grant Grill.
There, super talented mixologist Jeff Josenhans creates seasonal cocktail menus utilizing ingredients that are grown in the garden. His recently launched summer cocktails, like the Cinnamon Basil French Julep, highlight the seasonal bounty of summer's fresh herbs. To make this light, summery drink, Josenhans combines Pierre Ferrand Cognac and orange blossom sugar with muddled pink lavender and Cinnamon Basil from the rooftop garden before topping it with bubbly, delicious Moet Chandon.
Today and tomorrow you can order up a Cinnamon Basil French Julep or any of Josenhans' signature specialty cocktails for just $4 when you mention 'Cocktail Week'…now that's reason to celebrate!