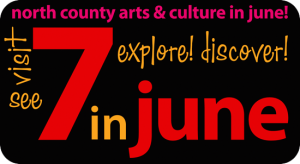 During the entire month of June, get your culture on at seven of North County's arts and cultural facilities. With your passport in hand (available at the front desk at all seven participating museums), you and up to three friends will get 1/2 off admission. You can also download the passport at www.northcountyartsandculture.org.
Participating museums include:
California Center for the Arts, located in Escondido, this museum has over 9,000 sq. ft. of exhibit space and is featuring the exhibit Patricia Patterson: Here and There, Back and Forth.
California Surf Museum, located in Oceanside, the museum actively collects documents and preserves surfing related artifacts and memorabilia.
Lux Art Institute, located in Encinitas, this museum is San Diego's first LEED certified, interactive, contemporary art destination, Lux invites visitors to not only "see art," but also to "see art happen."
Museum of Making Music, located next to LEGOLAND California in Carlsbad, the museum has dedicated itself to exploring the enduring relationship between people, instruments and the music we make.
Oceanside Museum of Art in Oceanside fosters and promotes the study, appreciation and understanding of art, with a special focus on local and regional art.
San Diego Botanic Garden, located in Encinitas features rare and endangered plant species as well as a large children's area including a running stream and very cool climbable tree.
San Diego Children's Discovery Museum in Escondido offers a wholesome, educational, and appealing gathering place for families.
This month is a great time to discover and experience these diverse, educational and family-friendly gems that are conveniently located in San Diego's North County. With my two kiddies getting out of school this week, I know I'll be getting a lot of stamps on my passport!