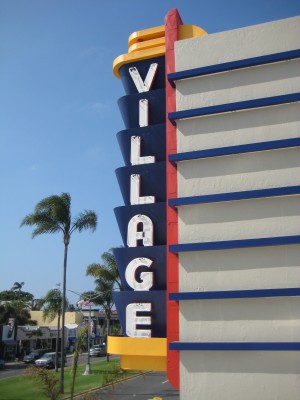 The curtain rose last night on a cinematic masterpiece in our midst: the historic Village Theatre in Coronado. The marquee was emblazoned with a kaleidoscope of color promoting the grand opening and premiere of its first film showing, Pixar's "Cars 2."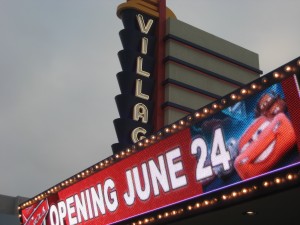 The Village sign twinkled like a beacon in the night, beckoning me closer as I breathed in the tantalizing aroma of fresh-popped popcorn. Ticketholders queued down the block and my heart skipped a beat in anticipation of the movie magic which awaited me inside.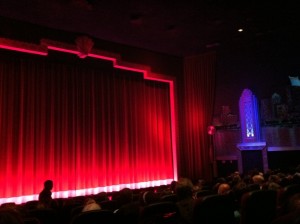 The grand opening was a star-studded affair…well, San Diego-style with local "stars" like Dave Scott, KUSI TV's popular morning weatherman, Chris Morrow, a CNN reporter who, coincidentally, lives in Coronado (click here to see her story), Coronado's Mayor Casey Tanaka and other local VIPs. We enjoyed a preview of summer blockbusters in spectacular 3-D, plus an Oscar-winning short film on the first 100 years of motion pictures.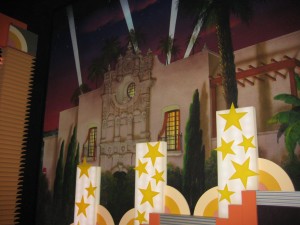 Other notable guests joined in the festivities and were congratulated for their incredible transformation of this landmark movie house. One was Bill Anderson, a Disney artist and muralist extraordinaire who created the theatre's stunning 3-D like murals of Coronado and San Diego scenes, including the Hotel del Coronado, Coronado Ferry Landing, Balboa Park, San Diego Bay and the downtown skyline.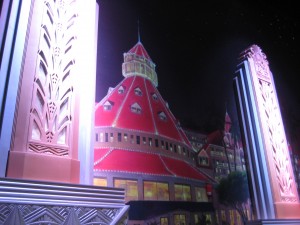 There was also Lance Alspaugh with Vintage Cinemas. He orchestrated the renovation of this movie gem for locals and visitors to enjoy for generations to come. Mayar Tanaka presented him with the gold key of the city.
The San Diego Union-Tribune did a fantastic story on the opening, plus a colorful photo gallery. Shout out to NBC Los Angeles for their "Worth the Drive" spotlight on our theatre star rising again!
I'll see you at the movies, on Coronado island!
Information:
Village Theatre, 820 Orange Ave. in Coronado
619-437-6161, www.vintagecinemas.com/village
Cars 2 in Disney Digital 3D
Showtimes: 12:45, 3:30, 6:15, 8:45pm
Tickets: $10.50, children under 12 and seniors 62+ are $7.50
(Note: 3D showings are an additional $2 per ticket)
Bargain Shows before 6 p.m. are $8.50.