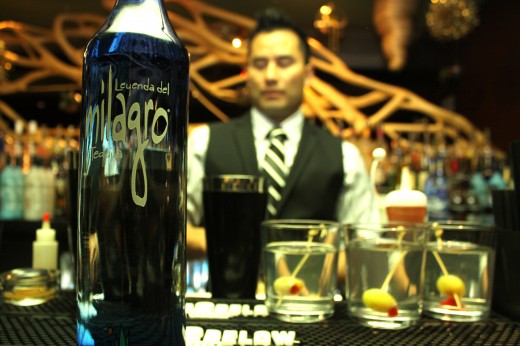 One of the highlights of this weekend's San Diego Spirits Festival will be the Ultimate Bartender Battle. Over the last few months, San Diego's top bartenders have been competing in neighborhood battles for the right to represent their 'hoods in this ultimate showdown and, this week, I'll be sharing a few recipes from the competitors…starting with the most technically challenging of the bunch.
The recipe below is for "Asians Driving Cadillac," the drink that won Mike Yen at Avenue 5 top honors in the Uptown battle. This, my friends, is a master at work:
2 oz – Milagro silver Tequila
1 oz – Yuzu juice (filtered)
1 oz – Aloe juice (filtered)
1/2 oz – Lime juice (filtered)
1/4 oz – St. Germaine elderflower liqueur
1/4 oz – Milagro agave nectar
2 slices – Baby ginger
swab – Blood orange perfume
1 – Cadillac "olive"
Swab the rim of chilled cocktail glass with blood orange perfume. Set aside. Muddle ginger with agave nectar and St. Germaine. Add remaining fluid ingredients and ice. Shake until chilled and strain into prepared glass. Garnish with speared "olive."
Sounds simple, right?
But, it's all in the preparation. To get those juices to the perfect clarity, Yen filters them with grade 203 filter paper and a Buchner Flask. To create the blood orange perfume, he uses a microplane to zest six blood oranges and soaks that zest overnight  in a cup of Grand Marnier before boiling it down until only sugars and oils remain.
For the piece de resistance, the Cadillac "olive," he hollows out a white grape before injecting a mixture of fresh blood orange juice and Grand Marnier that has been infused with calcium lactate. Then, he submerges the grape in a sodium alginate bath and allows the gelatin barrier to form and seal in fluid contents.
Why go to all the trouble?
Yen says "My inspiration was to provide a creation that offers illusion, flavors, and technique. The goal was to present the image of a dirty martini, but playfully deliver a completely different flavor profile by applying Asian flavors to a popular drink, the Cadillac Margarita."
Mission accomplished. Can't wait to see what he comes up with this weekend!