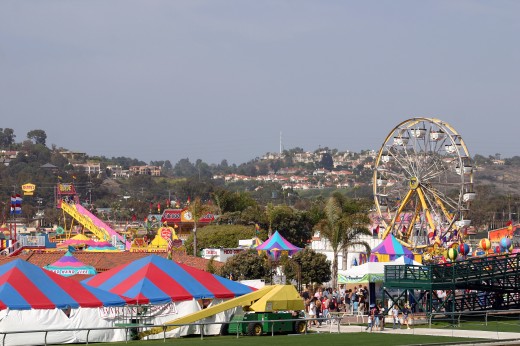 While the doors to the San Diego County Fair doors officially open today at 11:00 am, the fun will begin at 10:00 am with the opening ceremonies. During the opening ceremonies, there will be entertainers, a marching band, raising of the national flag and singing of the national anthem.
After the ceremony ends you can head inside to enjoy rides, shopping, carnival games (I can never knock down all three bottles!), concerts and of course deep-fried goodness (try the deep-fried Koolaid, it tastes like a pink doughnut). For thrill seekers, try the 130 foot bungee jumping. I got a chance to jump during the Fair's media night last week and while it looks easy from the ground, it gets a little scarier as the crew slowly raises you up to the apex. You just have to lean forward and let go!
For today you can check out the Purina Incredible Dog Challenge to see top canine athletes compete in diving, pole weaving and more (if only my dog was that well-trained). If you stay well into the evening, Pat Benatar and Neil Giraldo will be performing at the Heineken Grandstand Stage and Badd Co, a Bad Company tribute band at the Coors Light Rock on Stage.
For a full list of entertainment and concerts, check out the San Diego County Fair website. Also, check out our tips for frugal fair-goers.