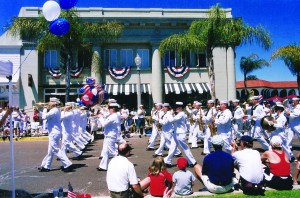 Let your patriotic colors fly this 4th of July – and all weekend long – in Coronado, just across the bridge from downtown San Diego.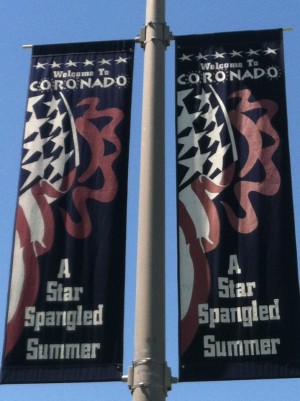 Coronado's Independence Day bash is the most popular in San Diego County. The prominent Navy presence on the island is a big reason why. There's NAS North Island, aircraft carriers like the famous USS Carl Vinson which just returned from the Middle East, and Naval Amphibious Base Coronado where the elite Navy SEALs train. (Did you know: Coronado traces its rich military roots back to 1911 when the first navy plane flew from its shores)
A jam-packed day of July 4th fun includes a 5K/15K run/walk, rough-water swim at North Beach and a two-hour parade down Orange Avenue, Coronado's quintessential "main street USA," complete with military bands, floats and Navy aircraft. It's like a Norman Rockwell painting come to life with families of locals and visitors alike lining the route donned in red, white & blue and waving flags. There's also "Art-in-the-Park" and a music concert in Spreckels Park, and at night, catch the spectacular fireworks display over Glorietta Bay.
Before, during and after the festivities, following are Five Fun Places to Try along Orange Avenue: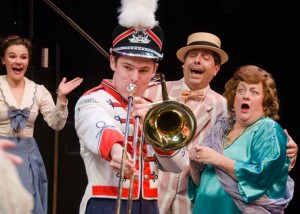 Guaranteed to have audiences humming "76 Trombones" all weekend long, the musical classic "The Music Man" takes center stage at the Lamb's Players Theatre on July 2-3. Great way to launch into the 4th and set the celebratory mood.
Catch a movie at the all-new Village Theatre, a polished cinematic gem at 820 Orange Ave. The dazzling Art Deco design and 3-D color murals are eye-candy for the kids – adults too! Bargain matinee shows before 6pm are only $8.50. Current flick: Pixar's "Cars 2."
Sample handmade candies like "Coronado Crunch" (white or milk chocolate with peanut butter, marshmallows and rice krispies, drizzled in more chocolate!). at Fuzziwig's Candy Factory at 1126 Orange Ave. Other tempting sweets: caramel, fudge, turtles and several varieties of caramel apples.

Elvis (and a cow!) greet ice cream fans at Moo Time.

Another sweet place to "chill" is MooTime Creamery at 1025 Orange Ave., famous for their fresh made-to-order ice cream creations and hand rolled waffle cones with totally cool flavors like girl scout mint, apple pie and "silly vanilly." There's a Moo Time at the Hotel del Coronado too!

One of Artist Navarro Montllor's amazing seascapes!

Take home a slice of paradise at the Art & Frames by Wood Gallery at 936 Orange Ave. Their just launched exhibit of fantastic seascape paintings by world-renowned artist Navarro Montllor are so realistic you can almost hear the waves crashing through the frames!
Have a fantastic 4th of July weekend!