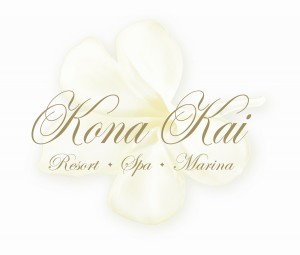 I had the pleasure of taking a little mini-vacation for the evening last Friday.  The beauty of my "trip" was that I was transported to the islands of the South Pacific without having to drive more than 5 miles!  "How is this possible?" you ask?  Why, it's possible at the Kona Kai Resort on Shelter Island – where they feature an authentic luau throughout the summer including buffet dinner, Mai Tais, Hula and Fire Dancers!
It's been years since I was last in Hawaii to experience something like this in person, so I was super excited to have the opportunity to attend right here in my backyard!  Kona Kai has a great beach area on the marina that works perfectly for the luau and the setting is fantastic.  From the roasting pig in the sand, to the Conch Shell announcement, to the fire stick twirling dancers, I really did feel transported back to the islands!
The food was delicious – with entrees including mahi mahi, terriyaki steak and Kalua Pig (from the pig roasting in the ground!).   I was so full from eating the meal that I barely got a chance to touch the dessert table – but the pineapple upside down cake looked especially appealing!  A full bar is available for your drinking pleasure.  Whether you prefer to get tropical or go with your standard vodka tonic, they've got you covered.  (You get 2 Mai Tais included with your meal and additional drinks cost extra)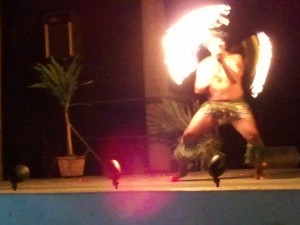 The performances are done by the Motu Nehenehe Polynesian Dancers who do a fantastic job.  They've got a large group of dancers from all age ranges – the youngest looked to be about 6 years old, and the oldest dancer was probably in her late 60's!  Dances are performed from many of the South Pacific islands with the MC explaining what the various poses and moves mean.  Luckily I escaped the "come up and dance with us on stage" experience, but not all my table-mates can say the same!  You definitely wouldn't want to see me up on stage attempting to hula!
There are still a number of dates available to attend Kona's luau this summer, so don't miss out!  The program runs on Friday nights starting at 6:00pm through September 2nd.  Cost is $45.00/adult and $19.95 for kids 5-12 (kids under 5 are free) plus tax and service charge.  Since you're getting both a delicious meal and a show, the cost is obviously well worth it!
** For those of you interested in going this Friday night (July 22nd), I've got at 20% off code for you.  Call to make your reservations at (800) 566-2524 and use code 7122 to get the 20% off.