So you are coming to San Diego for Comic Con and staying downtown (can anyone say – Gaslamp Quarter?). Oh wait, you're coming with the kids. Don't despair, there are actually quite a lot of things to do that entertain both parents and kids alike.
What to do: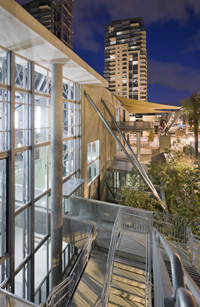 This museum is great for kids 10 and under. They do have a tween/teen area, but I have found kids under 10 get the most out of it. There are some really great interactive exhibits, and when the weather is nice, they open their doors and you can't tell if you are inside or out. Be sure to make and take home your very own clay sculpture!
Seaport Village – With 54 specialty shops and over 15 restaurants (and not to mention the awesome bayside location) Seaport Village is a great stop downtown. There is a carousel and other fun activities for kids. On the weekends be sure to look out for the balloon artist. He has made some of the best balloon animals/objects we have ever seen! He is definitely worth the wait.
Embarcadero Marina Park – Located adjacent to Seaport Village, Embarcadero is a great spot to picnic and watch sailboats go by. You can also walk the length of the park, which extends all the way around, to the USS Midway Museum.
USS Midway Museum – This is actually one of my favorite spots for kids and adults of all ages. Visitors can experience "life at sea" by touring galleys, officer's quarters, engine rooms as well as getting inside real planes and helicopters.
Horton Plaza – If you have any tweens/teens in your group, this mall will not disappoint. With a movie theatre and more than 100 shops and dining options, as well as a festive European open-air atmosphere, Horton Plaza is sure to please even the most discerning teens.
Gaslamp Quarter – Primarily known for its nightlife, the Gaslamp Quarter is a great place to take a stroll, people watch and do a little shopping during the day. There are grand Victorian-era buildings which are now home to more than 100 restaurants, 35 pubs and nightclubs and 100 retail shops, as well as theaters and art galleries.
Where to eat:
Below is a list of some of my favorite places to take the kids downtown – however with over 100 restaurants in Gaslamp alone, feel free to find a restaurant that is perfect for you. Most restaurants post their menus outside so that you can see what is right for you.
Brickyard Café – Located just a block from Children's Museum and Seaport Village, this café is a great place to catch breakfast or lunch outside. You will find mostly locals here. My kids love it because the Trolley stops in front of the café which keeps them entertained. Our favorite is their chili and grilled cheese sandwich combo. They also have a great coffee bar.
Maryjane's – Located in the Hard Rock Hotel, this is an ideal spot any time of day. When the weather is nice be sure to sit outside and people watch. The menu includes a lot of diner style options. Be sure to try the fish tacos – they are great!
Spaghetti Factory – Located right in Gaslamp, this restaurant is a popular spot, so expect a wait. The atmosphere is always festive and fun. On some days there is also a balloon artist out front to keep the kids entertained.
Filippi's Pizza Grotto – A mainstay in San Diego for over 50 years, this is an awesome place to experience San Diego's Little Italy. The restaurant, located behind the deli, offers some of the best pizza in San Diego. Be prepared for a wait, but it's worth it!
Sweet Treats:
Pinkberry – If you haven't tried Pinkberry, it's worth the stop. Located in the Hard Rock Hotel, Pinkberry is my favorite yogurt shop in San Diego. Love the original with raspberries and chocolate chips!

Heavenly Cupcakes – For some reason on Friday's, I always find a reason to be in the area to pick up some cupcakes. My favorite is the black and white. My son loves the mint chocolate.

Ghirardelli Soda Fountain and Chocolate Shop – Need I say more? This is for serious desert people. Located in the heart of the Gaslamp, it is open late and offers the best chocolate sundaes!