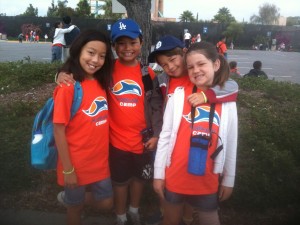 This week my kids and their friends started SeaWorld Camp. The idea of spending the week at SeaWorld seeing the shows, riding the rides and learning about ocean animals was not a hard sell.
Yesterday was their first day and it did not disappoint. I was met with excitement as they all related their favorite part of their day. My daughter pet and fed dolphins and my son pet a tiger shark. They also could recount facts about how many pounds of fish the dolphins eat and how big sharks can get. This morning they were so excited to find out what they would be seeing today.
SeaWorld camps are for kids in Kindergarten through 9th grade and are split up by grade. Brett and his friend Aiden are in the "Holy Mackerel! What's For Lunch" which explores how animals catch prey and avoid predators. While Mia and her friend Nathalie are in "Xtreme Sea Creatures" where campers will learn how stingrays, jellyfish, sharks and killer whales not only survive in their extreme habitats, but thrive!
Camps run through August 19th and run for one week from 8:30 – 3:00 p.m. I can't wait to hear what new adventures they experienced today!