Discover San Diego's Neighborhoods with our Summer Sweepstakes. Join us every week as we showcase the best in what to do, where to eat, and where to stay in some of San Diego's unique neighborhoods. Be sure to check back for exciting insider tips, giveaways, and more! This week's spotlight is on Coronado.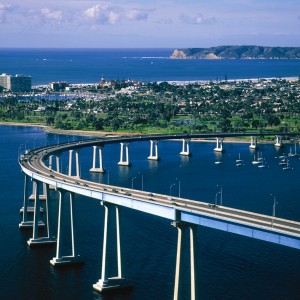 Coronado is a gorgeous island getaway where worries seem to melt away once guests cross over the iconic blue span of the San Diego Coronado Bridge. Situated between San Diego Bay and the Pacific Ocean, the "Crown City" is a paradise of relaxation and recreation that boasts a unique combination of small-town charm and sophisticated luxury. Let's explore this enchanted isle!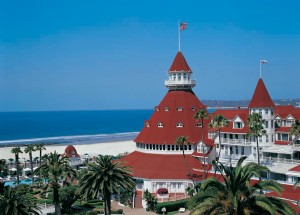 Hotels
Built in 1888 and designated a National Historic Landmark, the legendary Hotel del Coronado offers 28 oceanfront acres featuring endless recreational opportunities like surfing, bicycling and yoga on the beach, as well as exciting culinary offerings  (1500 Ocean, Sheerwater and its famous Sunday brunch in the Crown Room), an award-winning spa and The Shops at the Del.
Glorietta Bay Inn is a charming historic boutique hotel overlooking beautiful Glorietta Bay. Once the stately home of sugar baron John D. Spreckels, the Inn combines old-world charm with modern amenities and features 11 mansion rooms and 89 contemporary rooms and suites.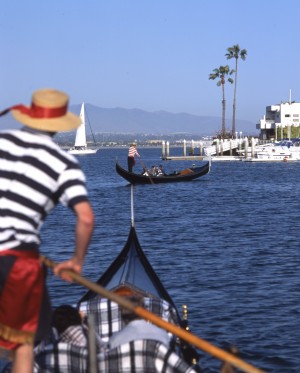 Land, sea and air meet in perfect harmony at Loews Coronado Bay Resort, a vacation oasis nestled on a 15-acre peninsula on San Diego Bay. Guests can enjoy a multitude of exciting activities, including romantic gondola rides and sunset sails, surfing, kayaking, nature walks at nearby Silver Strand State Beach, the rejuvenating Sea Spa and dining at Mistral and the Market Café.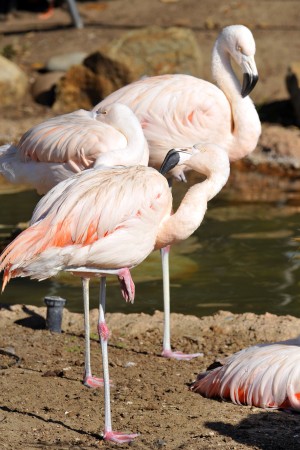 Coronado Island Marriott Resort & Spa is a contemporary resort featuring fine dining, a health spa, swimming pools, tennis courts, surrey bikes and even its own flamingo pond. Conveniently located within easy walking distance to shopping, bayside beaches and Tidelands Park, the resort even has its own water taxi to transport guests across the bay to downtown San Diego.
Restaurants
Coronado has over 70 cafes and restaurants, many of which are located on Orange Avenue, the city's picturesque palm-lined main thoroughfare. There's mouthwatering cuisine to fit every taste, from comfort food (Clayton's Coffee Shop serves up a slice of classic Americana), burger joints (Burger Lounge is a gourmet favorite) and brew pub fare (Coronado Brewing Company is quite popular) to Italian (Two stand-out include Vigilucci's Ristorante and Island Pasta), south of the border flavors (Miguel's Cocina and Costa Azul are muy delicioso!), steak & seafood (like Brigantine and Coronado Boathouse 1887) sweet treats (Moo Time Creamery and Fuzziwig's Candy Factory can satisfy any sweet tooth) and European-style bistros offering al fresco dining (Rhinoceros Café and Grille and Tartine are both quite charming) and authentic French cuisine (Chez Loma, just off Orange Ave., is magnifique!).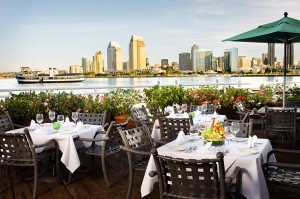 The Coronado Ferry Landing is also home to some outstanding restaurants, including Il Fornaio for Italian, Peohe's with its Pacific Rim specialties and Candelas on the Bay, featuring gourmet Mexican dishes.
Nightlife
When the sun sets, Coronado's nightlife sizzles. Enjoy drinks and live music at Babcock & Story Bar at The Del or take a short walk down Orange Avenue to McP's Irish Pub, a popular watering hole featuring live entertainment nightly. Visitors can also toast the end of a perfect Coronado day at Wine Styles where the smooth sounds of jazz can be heard nightly (Thursday through Saturday) or Eno Wine Room at The Del.

Two exciting new additions to the island's nightlife scene, both scheduled to open this summer, are Nicky Rotten's Coronado and Leroy's Kitchen + Lounge.
Shopping
Coronado is a shopper's delight with over 100 unique shops and boutiques. Stroll along Orange Avenue and find clothing boutiques, surf shops, souvenir stores selling one-of-a-kind mementos, and even a store specializing in fresh olive oils and fine-aged vinegars,  Coronado Taste of Oils.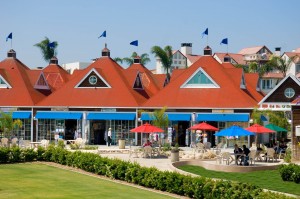 Enjoy the sunshine while browsing through the shops at the Coronado Ferry Landing, or head inside to the Shops at The Del or Loews Coronado Bay Resort to pick up beach apparel, home décor, bath and spa products, jewelry and more. From boogie boards to luxury brands, Coronado's shopping is sure to cater to everyone.
Arts & Culture
Coronado's rich and colorful history comes alive at the Coronado Museum of History & Art; admission is free. Art aficionados can view classic and contemporary art, paintings, sculpture and photography at fantastic art galleries like Art & Frames by Wood Gallery and the Dan McGeorge Gallery. The first and third Sunday of every month, Spreckels Park is transformed into an outdoor gallery called Art-in-the-Park, featuring more than 50 artists selling their works.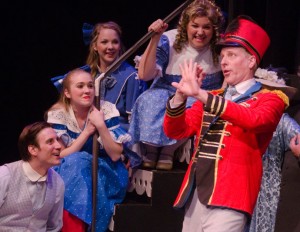 Movie fans are in for a cinematic treat at the all-new Village Theatre showing the latest summer blockbusters in spectacular 3-D. And theatergoers can catch a crowd-pleasing show at Lamb's Players Theatre (now playing: "The Music Man") or the Coronado Playhouse ("A Roman Holiday" opens this Friday).
We want to send you to Coronado in the "Live Like a Royal in San Diego's Crown City" Sweepstakes.  The trip for two includes a 2-night stay at the Hotel del Coronado, a 1-hour surrey rental from Bikes & Beyond, and a Pasaporto Cruise from The Gondola Company.  Register to win here.  Contest ends July 15, 2011.