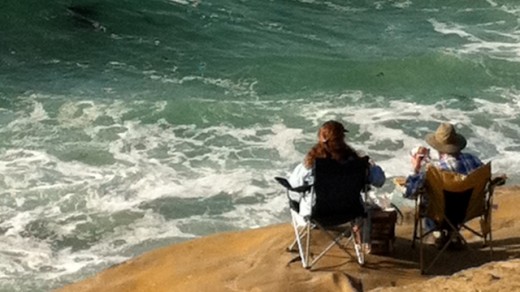 Ask five locals to name their favorite picnic spot and you'll get five different answers.  Got kids and want a playground? Prefer a romantic oceanfront perch? How about a great spot for watching fireworks? Want music with your bread and cheese? San Diego has so many great spots for picnicking that choosing a site is purely subjective. Given that, here are several suggestions:
My favorite spot is on the grassy bluff overlooking the surf at Coast Boulevard Park, just south of the backside of the Museum of Contemporary Art in La Jolla. My husband and I picnic there year round; it's where he proposed all those years ago – and where we opt to renew our contract each year on the anniversary of that date. At low tide, some take their picnics to a wide patch of bluff closer to the surf. From any vantage point, the view is breathtaking.
For a more serene Pacific view, consider spreading picnic fixings in the bunker just beyond the lighthouse at Cabrillo National Monument. Take beach chairs to enjoy comfy views of the wide Pacific. And don't forget a jacket; it's breezy out there. (Admission to the monument costs $5 per car.)
Want entertainment with your picnic? Check out parks throughout the county where free concerts will be staged this summer. We blogged about them last month.
Prime spots for picnics with fireworks viewing include Rose Marie Starns South Shores Park on Mission Bay. The sandy beach has fire rings – and a perfect sight-line for watching SeaWorld fireworks.
For music and fireworks, spread a picnic blanket at the tip of Embarcadero Marina Park North when Summer Pops is on stage at the tip of Embarcadero Marina Park South.
Balboa Park is filled with great picnic spots. After visiting a museum or two, generations of local families have picnicked at Pepper Grove, south of The Fleet along Park Boulevard. The big draping pepper trees remain – and there's a large playground and 15 picnic tables.
In East County, Santee Lakes is a 190-acre recreation preserve with seven lakes, a 300-space RV campground, cabins for rent – and plenty of fun for picnickers. Go fishing. Rent a pedal boat, rowboat, canoe or kayak  ($11-$15 per hour). Kiddies can romp at five playgrounds (each geared for specific ages). The "Sprayground" is wet and wild fun for kids up to 13 years old. (Pay $2 at the front gate for a wristband and get soaked all day long.) Technically admission to the park is free, but parking costs $5 on weekends, $3 weekdays.
Want to extend your picnic? The park has 10 new cabins for rent – including three floating units.  Each has an equipped kitchen and can accommodate up to six – but you'll have to bring your own linens. Rates start at $100 per night midweek for lakefront units and go to $145 a night for a floating cabin on weekends and holidays. There are two swimming pools and a whirlpool spa exclusively for overnighters – including the many snowbirds who rent RV spaces by the month.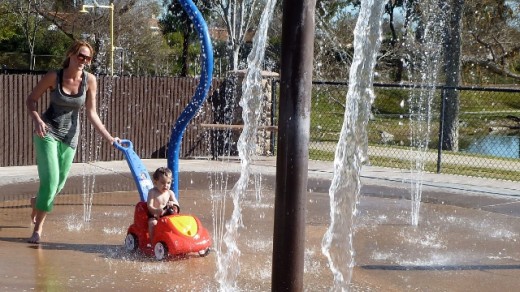 You have a favorite picnic spot we haven't included here? Please tell us about it.