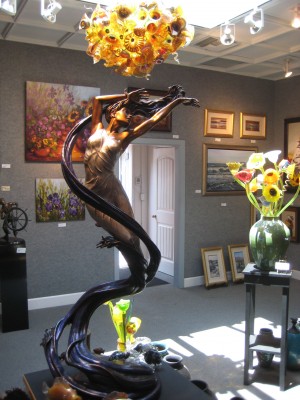 This week, Arts Month San Diego is focusing on the island of Coronado.
Nestled between the Pacific surf and sparkling San Diego Bay with its palm-lined boulevards, Coronado is pretty as a postcard. The town's picturesque setting is accentuated by a plethora of public art dotted around the island.
San Diego Magazine recently featured Coronado's treasure trove of artistic wonders in its September issue. Heidi Wilson, Chair of Coronado's Public Art Subcommittee, narrowed down her Top 5 picks  (scroll down to Coronado section)– two of which are my personal favorites!
Following are my five fav public artworks in Coronado. I definitely enjoy art's more playful, whimsical side: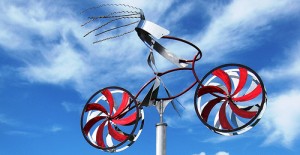 "My Bike," located in Tidelands Park, is just plain cool! A figure with wind-swept hair rides through the sky, taking in the fantastic bayside views.

"Eye" see you! "Seaside Seating" at Tidelands Park.

Nearby "Seaside Seating," also in Tidelands Parks, is an octopus-like creature with one eye that begs for a close encounter of the visitor kind!

Wizard of Oz glass panels at Coronado Public Library.

Ease on down the road to the Coronado Public Library (640 Orange Ave.) to view the wondrous "Wizard of Oz Glass Panels"which jump right off the pages of L. Frank Baum's famous children's books. Baum, by the way, lived in Coronado and penned a few of his classics here.

"Sea Passage" fountain on Gloriettta Bay.

"Sea Passage," a fountain by James Hubbell overlooking Glorietta Bay, is a gorgeous example of the natural aesthetic "San Diego's Gaudi" is known for.
"Solstice Clock" on the Silver Strand is Nature's splendidly simple timepiece – but only tells time twice a year! On June 21 (longest day of the year) and December 21 (shortest day of the year) the rising sun aligns perfectly with this bayfront sculpture.
Coronado offers a fantastic self-guided public art walking tour of these plus 25 other great works of art. And best part: it's completely free!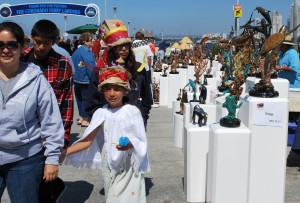 Hop over to the island this weekend (Sept. 17-18) to also check out Coronado Art Walk at the Coronado Ferry Landing, featuring paintings, photography, ceramics and other mediums by over 100 artists. Admission is free with a complimentary shuttle transporting attendees along Orange Avenue, with a stop at Art-in-the-Park in Spreckels Park.
Get a jump start on the weekend with Coronado's first ever Gallery Walk this Friday from 5:00 – 8:00 pm (also free with a complimentary ArtMobile between the Ferry Landing and Hotel del Coronado), featuring 12 galleries – the perfect date night prior to Art Walk!