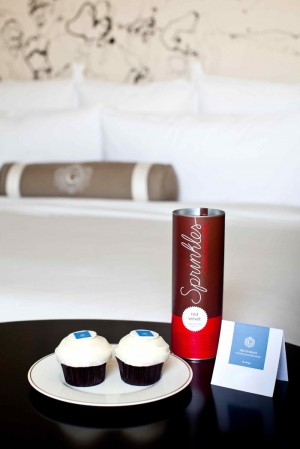 Today is National Dessert Day (not that I need a day to celebrate it!) and coincidently, the iconic US Grant and the world's most famed cupcake bakery, Sprinkles Cupcakes are teaming up to provide a "Sweet Indulgence" package. This limited time package is in honor of the US Grant's 101st birthday in October. This is the first time the cupcakery has partnered with a hotel and what better time than for something as impressive as turning the big 1-0-1!
Offered now through October 31, 2011, the US Grant's Sprinkles "Sweet Indulgence" package includes:
Luxurious room accommodations at the US Grant
Two freshly baked Sprinkles Cupcakes in your room during your stay
A Sprinkles Cupcake Mix Kit to take home to relive your festive memories
Reserve your experience online up to three days prior to arrival, by phone at 866-716-8136 or through your preferred travel professional. Please mention rate plan 101BDAY. From $199.