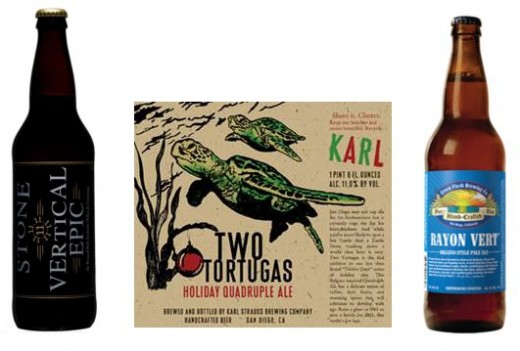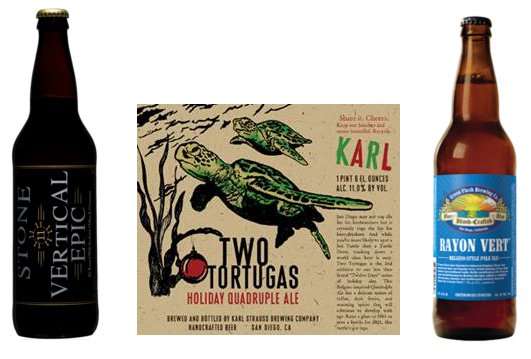 In San Diego, nothing pairs better with a holiday meal than a local craft beer. Whether you enjoy one while taking in the view from your hotel balcony or pick up a few to take home as a souvenir, visitors can find a little taste of San Diego in the special seasonal releases from the regions celebrated local craft brewers.
Stone Brewing Co.'s Stone 11.11.11 Vertical Epic Ale is a Belgian-influenced bottle-conditioned ale. The verticals are offered every year, and this year's recipe starts with a base beer akin to a Belgian amber, and is tweaked with the addition of mild but flavorful Anaheim chilies from New Mexico's Hatch Valley and cracked cinnamon sticks.
Karl Strauss Brewing Company adds a new offering to their 12 Days of Christmas special releases: Two Tortugas is the 2nd addition to their less than literal "Twelve Days" series of holiday ales. The Belgian-inspired quadruple ale has a delicate union of toffee, dark fruits, and warming spices that will continue to develop with age. You can raise a glass to 2011 or even save a bottle for 2012. And at 11 percent alcohol-by-volume, this turtle packs a punch!
Green Flash Brewing Co. recently debuted their breakthrough new Belgian pale ale, Rayon Vert. A bottle-conditioned ale with wild-yeast, Rayon Vert is inspired by the pre-WWII Belgian brewing style and is distinctly aromatic, effervescent and light in body.  It is dry, crisp and refreshing with notes that are fruity without being sweet and has a delicious toasty quality.
You can try these special brews at each brewery's tasting rooms, so grab a pint and raise your glass to Fall in San Diego!