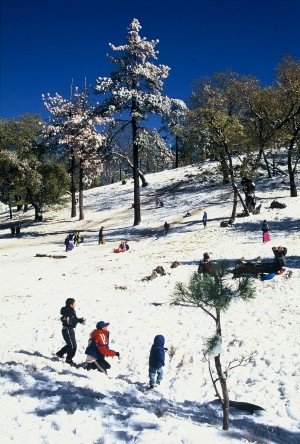 If you're looking for a few off-the-beaten-path adventures this holiday season, look no further than San Diego's East County. With some serious holiday cheer in the forecast, plus snow levels dropping between 4 to 5,000 feet the next couple of days, parts of the County are beginning to look like a winter wonderland.
Following are my Top 3 picks of places to make some merry – and even snow angels! – this week: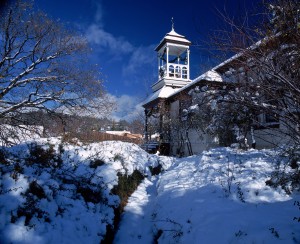 Grab a sled, saucer, toboggan or boogie board (So SoCal) and trek up to our historic mountain town of Julian to go sledding on the hillsides, followed by a piping hot cup of apple cider – a local specialty! Cuyamaca Rancho State Park, located south of town, and Mt. Laguna Recreation Area are two other choice spots to "chill" when it snows in San Diego's higher elevations.
Remember that Peanuts' Christmas TV special with Snoopy's doghouse decked out in a festive explosion of colored lights and decorations? Well, multiply that by 100 and you have Jim Fairchild's holly jolly house in La Mesa (8045 Stadler Street). Thousands of twinkling lights and inflatable Santas, snowmen and other winter characters fill every nook and cranny of the yard, including his prized light-up Grinch. If you're looking for the gift of Christmas cheer, look no further than here!
Looking ahead to New Year's – and for those who may have missed last weekend's spectacular lunar eclipse – the clear desert skies over Borrego Springs Resort will soon beckon star gazers and revelers alike. Make your reservation for the resort's New Year's Eve Dinner & Celebration, which includes a lavish buffet of prime rib and Cornish game hen, dancing starting at 8:00 pm and a champagne toast at midnight. Cost, $59.95 per person. $299 per couple includes a deluxe guestroom. Insider tip: after midnight, head outside to the golf course to marvel at the Milky Way in all its splendor – a memorable & magical way to welcome the New Year!