San Diego nightlife venues are jockeying for position in what is often the biggest celebration of the year! Whether you're a club-goer looking to dance the night away, prefer to keep it quiet and intimate, or just want to have a good brew…there is a New Year's Eve party for you!
San Diego's Big Night
Arguably one of San Diego's biggest NYE parties is Big Night San Diego at the Hilton Bayfront hotel. I've attended the last two years and each year gets bigger and better! With 6 dance floors featuring different styles of music, 12 themed rooms, an open bar from 9:00 pm – 3:00 am and roughly 4,000 of your closest friends, this all-inclusive event is definitely one for NYE partygoers who want to go BIG!
New Years on the Water
If Hornblower Cruises & Events has anything to say about it, you'll be yelling "I'm on a boat!" come December 31st. Their yacht, the Hornblower Inspiration will play host to Millenium Events' 6th Annual NYE Yacht Party with all inclusive tickets including 12 bars, 3 levels of entertainment and one of the most unique venues in San Diego.
A Beer New Year
If you prefer something a little less crowded but no less awesome, check out Stone Brewery's New Year's Celebration. Running from 8:00 pm – 1:00 am, enjoy an evening on Stone's 1 acre compound in Escondido and delight in included craft beer, wine and sake, sushi, seafood and buffet stations (if you haven't tried Stone's food yet, I highly recommend it!) and music from live bands and DJs! Where else can you party into 2012 surrounded by gigantic containers of craft beer?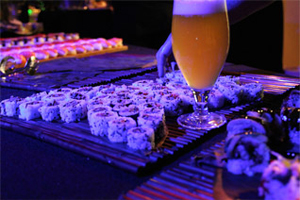 Wine of a Time
Or if you're more of a vinophile than a beer drinker, might I suggest attending South Coast Winery's New York New York New Year's Eve celebration. A food and wine lover's paradise, South Coast Winery has an exciting evening of award-winning food and wine paired with the croonings of Dan DeLurgio. Enjoy New York without the bitter cold temperatures and the expensive plane ticket!
After Party
So you watched the ball drop, counted down the last seconds of 2011 and kept on partying until the lights got turned up and the music started to fade away… It's time to go home, wind down and sleep in on New Years Day, right? Not if you're a true baller! Why stop the party at 2:00 or 3:00 am when you can hit up Side Bar's Five/Ten After Party from 5:00 am – 10:00 am? For those who truly want to start 2012 off with a bang, you have to check this out!
Whether you prefer your New Year's Eve party larger than life, or just end up at a house party with friends…be safe everyone and have an awesome New Year's Eve!!