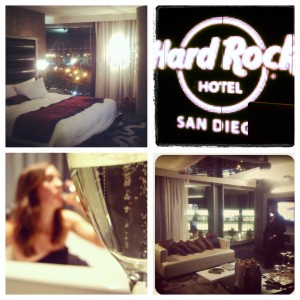 Pressure on. Friends from my considerably more "energetic" college years in NYC are on their way to San Diego for one night only and ready for a reunion of epic proportions. As master of ceremonies, I am charged with orchestrating the unforgettable affair.  So, undoubtedly, I booked us a Rock Star Suite at the Hard Rock Hotel San Diego in the notorious-for-its-nightlife Gaslamp Quarter of San Diego.
VIP treatment begins immediately at the Hard Rock. "Rock Royalty" checks in amidst drink service and plush couches in a private lounge while a VIP Manager takes care of every whim – whether that means dinner at Nobu, a guest list for the ultra-hip bars 207 and Float or an appointment at Rock Spa.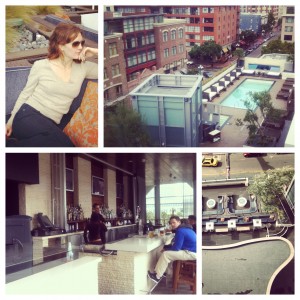 The Rock Star Suite has stunning, floor to ceiling windows, a fluid, open layout and tasteful, modern decor. Champagne room service and a stocked minibar makes leaving seem like a crime – but I can see San Diego's best rooftop pool bar, Float, beckoning from my window. On this clear, autumn day we enjoy panoramic views down to Mexico and relax a bit before the night ahead of us, when we will be back to see Float in its evening wear, replete with fire pits, DJ and throngs of beautiful people. It is testament to the Hard Rock Hotel San Diego's quality that Float translates so easily from sun-soaked luxury to star-studded playground.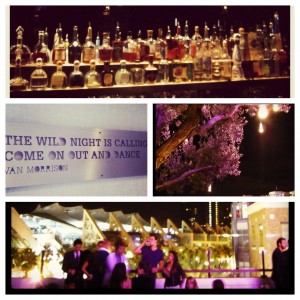 When night falls, the Hard Rock buzzes with electricity and the hotel is our oyster. At the drop of a hat we move from our Rock Star Suite, to Float, to the glamorous-but-laid-back bar, 207. Each beguiles the senses with a unique combination of ease and excitement and ushers us through to the next morning with effortlessness.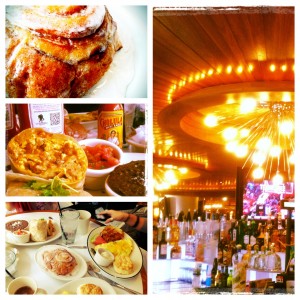 And a good morning it is! Sunday brunch at the Hard Rock's retro-chic diner, Maryjane's, is the perfect place to recap the evening's tomfoolery and refuel with breakfast burritos, eggs-your-way, STELLAR hash browns, sticky buns and a whole lot of coffee. Some advice? Make sure to request late check-out in advance. After last night's frenetic fun, breakfast is a sacred thing that shouldn't be rushed.
Are you ready to rock? Enter the "Rock Out in San Diego" Sweepstakes to win a one-night stay at the Hard Rock Hotel San Diego with VIP check-in, one "Sugar and Spice" spa treatment at the Rock Spa, VIP entry for two to 207 and Float nightclubs and breakfast for two at Maryjane's.