The North Park neighborhood has gone through a number of changes over the last several years and has really become a "scene" to check out. With a its own relaxed vibe, North Park nightlife definitely differs from Downtown. Part of North Park's appeal is its variety of nightlife and its unassuming nature. People from all walks of life head to down 30th Street and University Avenue when they just want to kick back and relax and have a little fun.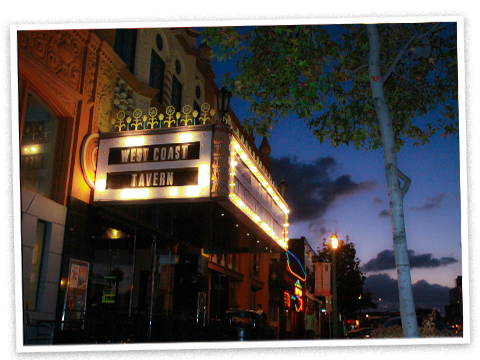 A favorite for those who like to dance, West Coast Tavern is a fantastic restaurant and bar with a hopping dance floor.  From the street, their movie marquee sign attracts your attention from afar, but it is the steady beats of base that will draw you in for a dance or two at night.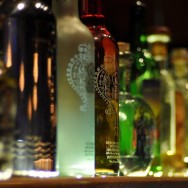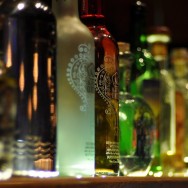 Although I haven't had the opportunity to try their menu, I definitely enjoy frequenting the bar at El Take It Easy (ETIE). I mean, who couldn't like a place with a name like that?  Rebelling against the traditional bar music scene, ETIE's music is eclectic, humorous and even on occasion eyebrow raising – but it never fails to entertain. With its collection of off-the-wall named drinks and "mexican wine country cuisine," ETIE definitely stands out as a place to check out at night.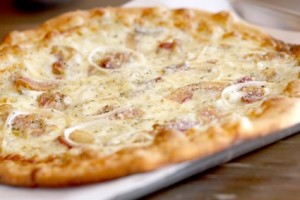 URBN Coal Fired Pizza Bar (sister restaurant to Downtown's BASIC) is the perfect place for a mellow hang out session with your friends.  With a BAF (Big A** Fan) keeping temperatures steady, a large bar stocked with delicious craft beers and cocktails and some of the best thin crust pizza known to man, you can't go wrong with URBN.  (Note:  Their pizza comes out on a cookie tray – it's that big! – and is sliced into long strips)
New to the North Park scene and getting rave reviews is Wang's.  Wang's recently transformed a former big box department store into a sprawling upscale Chinese restaurant and lounge. Currently North Park's place to see and be seen, the decor is awesome, the family style portions are delicious and the cocktails are stiff!  Bring some friends and chat the night away over some moo shoo pork!
Lastly, North Park's other go-to spot for dancing is U-31 (named for its location on the corner of University and 31st). Bar by day, bar/dance hall by night, San Diegans definitely flock to the U to dance the night away.  Just to let you know, this venue is smaller, so be prepared to get up close and personal with your fellow dancers.
All in all, I like North Park's nightlife as a place to go when I just want to take it easy (pun intended), have a few drinks with friends, a good meal and maybe a few dances. It is easy to stroll from restaurant to bar to the next bar and there is always something entertaining going on!