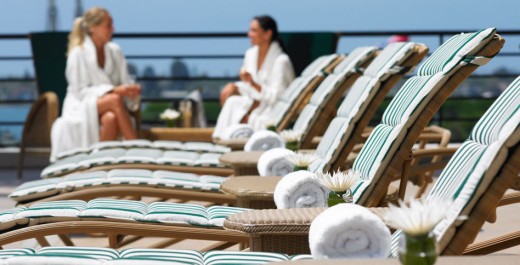 Today is Random Acts of Kindness Day! My Random Act of Kindness came a little early when the Kin Spa at the Manchester Grand Hyatt San Diego recently invited me to experience one of their fabulous massages. From the moment I walked through the spa doors I was met with luxurious surroundings and inspiring views of San Diego Bay and the Pacific Ocean. After a hectic day, I immediately felt myself unwind, ready take in the bliss I was about to experience.
A new addition to the Manchester Grand Hyatt, Kin Spa offers a full menu of services that include massages, body scrubs, facials, manicures, pedicures, hair care and more. After getting a quick lay of the land, I slipped into a comfy robe and slippers and relaxed in the lounge as I waited for my massage. After enjoying some soothing tea and getting into a tranquil spa spirit, I was brought into one of their eight treatment rooms, each exquisitely designed to provide guests with ultimate in therapeutic relaxation. And relaxed I was! My massage therapist was amazing and worked out every kink I knew I had, and others I didn't know even know I had. I left feeling refreshed and rejuvenated, and so grateful for this random act of bliss. Thank you Kin Spa!
Interested in trying out Kin Spa? Comment on our blog and one person will win 60-minute Swedish massage compliments of Kin Spa and the Manchester Grand Hyatt. Remember to bring your bathing suit and arrive early so that you can soak up the sun and take advantage of the complete spa experience, including a lounging pool, steam room, sauna and fitness center.
Winner chosen Tuesday, February 21, 2012 10:00 a.m. pst.