Having just recently completed the Southern California Spartan Race Temecula, my interest in obstacle races has piqued. Who else out there enjoys torturing themselves by running miles and miles while climbing over/under walls, jumping fire, dodging gladiators and in general just beating your body to a pulp? I certainly didn't think I was going to be "that guy," but I challenged myself to do the Spartan this year as a motivator to improve my fitness and health in 2012 – and ended up enjoying it (did I just write that?!).
So for those who are already into these types of races, or those that would like to challenge themselves, here are a few other San Diego obstacle races that are happening in the not too distant future: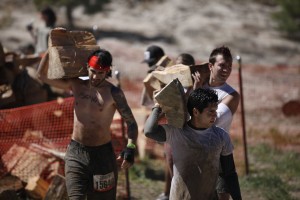 February 25-26, 2012 and July 7-8, 2012
An 11 mile course located in Temecula, this hardcore event is not for the feint of heart.  Tough Mudder is being held in the same area as the Spartan Race I just did, and let me tell you, there are some major elevation climbs on this course! Be ready to crawl under barbed wire, scale cargo netting and slosh through dirty, muddy water. This event is for the Tough!
March 24, 2012
While this run has obstacles like all the others, the main obstacle is – yes you guessed it – mud! The 5k course has tunnel crawls, slippery hill climbs, 4-foot high walls, etc. Just remember that you'll be doing all these things while being soaked and muddy! So for all you Pig Pens in the world out there, this may be the race for you!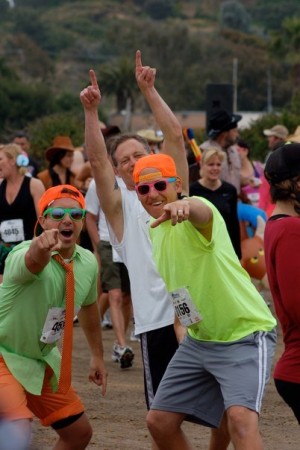 May 19-20, 2012:
Held at the Del Mar Fairgrounds, the ROC Race is a 5k race with 20 obstacles. I had friends participate last year (see picture) and they had a blast! Lots of people participate as a team, dress in group costumes and generally have a good time. While there are definitely those who are seriously trying to get the best time, most are just out for an afternoon of fun. Check out the ROC Fest after the run to grab a beer and some gear and know that this event is supporting a good cause – the Challenged Athletes Foundation.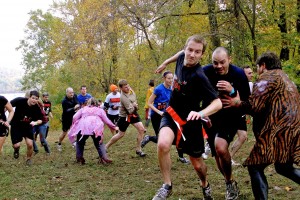 October 20, 2012
Also located in the Vail Lake Village area of Temecula, the Zombie Run is a funny twist on your typical obstacle race. What better way to motivate you to run a race then to have zombies chasing you? In flag football-esque style, zombies will be littered throughout the course attempting to catch you and "eat" your flag. Your task is to make it through the 12 apocalyptic obstacles without losing all of your flags and return to the "Safe Zone" where you can participate in the Apocalypse Party. Another cool feature of this race is that the course is not set – you can choose which route you take as long as you visit all the obstacles!
So whether you're looking for a fun event for you and your friends to participate in – or are looking for the ultimate physical challenge – there's an obstacle race for you in San Diego! Let me know in the comments section if you're participating in a race and how you do!