I love beer (IPAs to be exact) and it helps that I live in San Diego with over 40 amazing breweries to its name. The hard part is getting a chance to sample all of the different local brews.
There is a new way in town to do just that through La Jolla Wine Tours (LJWT) who are now offering a Beer Train Tour. LJWT's goal is to showcase great San Diego breweries, wineries and restaurants while making sure everyone has a fun and safe time. They offer beer and wine tours on foot, by car, and now, by train that take visitors all over the county. All I heard was beer, food, train, frivolity and sunshine and I was sold.
On a gorgeous Friday afternoon, my little brother (now 21, which is scary), myself, and a few other beer fans met up with beer and wine sommelier, Stephen, and tour guide/tour creator, Patricia, from LJWT to embark on The Beer Train Tour.
Once aboard The Beer Train Tour, our group made three stops along the coast of San Diego starting in the Downtown area and ending in the seaside village of Carlsbad. Here is a sample of what you might expect to experience on this fun and green tour: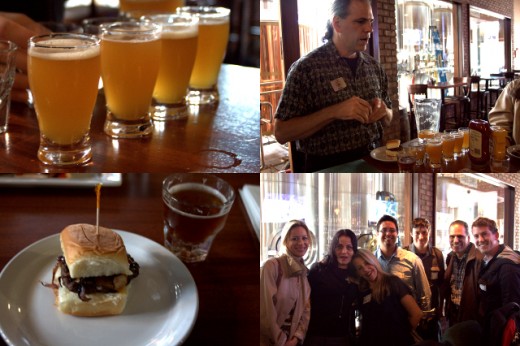 Station 1: Downtown's The Beer Co.
We all met at our first stop, The Beer Company, in San Diego's Downtown. After the meet and greet, Stephen got down to business and led us through the complexities and flavors of a few samples from the Beer Co.'s wide selection and styles of in-house beers. As a bonus, we were lucky enough to meet one of the brewers while he poured us a pitcher straight from the tanks! To keep things fun, Patricia threw out a couple trivia questions that resulted in a few prizes for me (I admit it- I am a beer nerd) and the ability to select a growler fill for the train ride.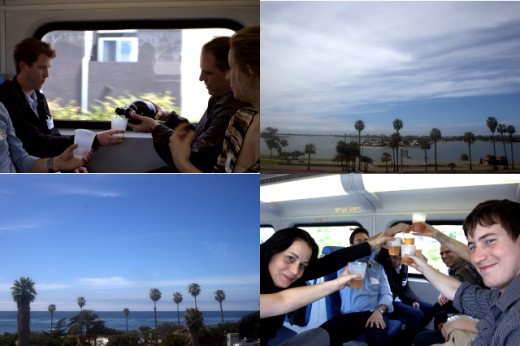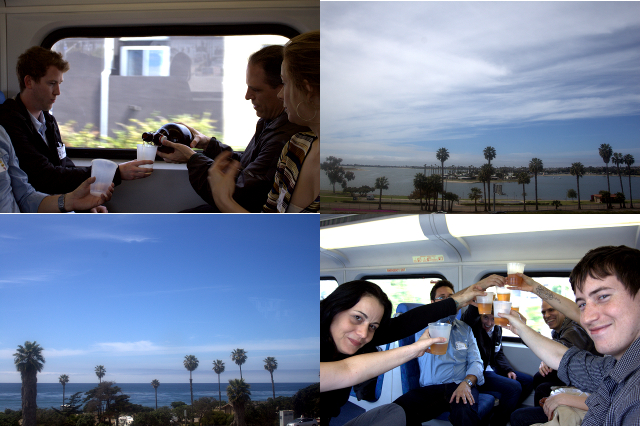 Once good and giddy, our group took a short walk to the Santa Fe Train Station to hop on the train. As it pulled out of the station, we all relaxed in our comfy chairs while enjoying a growler fill of The Beer Co.'s Trippel (a Belgian style Tripel) as the views of the waterfront chugged by. Next stop, the sleepy surfer town of Encinitas.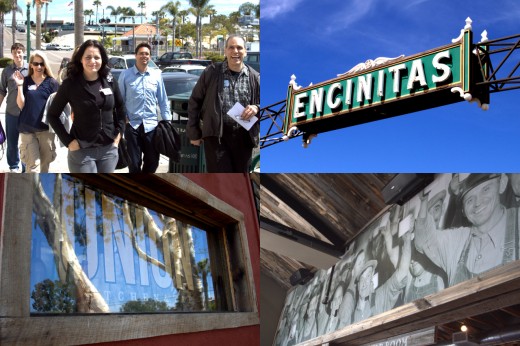 Station 2: Encinitas' Union Kitchen and Tap
Moving away from the hustle and bustle of downtown, we disembarked from the train into the sun-kissed, laid back surfer town of Encinitas. We strolled down the South Coast Highway 101 enjoying the warm ocean breeze and picking up a few fun facts from Stephen as we made the short walk to the Union Kitchen and Tap. Stephen perused the local beers on tap and made sure to order samples based on everyone's preferences. Magically, both food and beer samples made their way to our table and before we knew it, it was time to ride on to our next destination.
Note to self: Head back to Encinitas and the Union for a quintessential San Diego afternoon of sunshine, surf and great beer.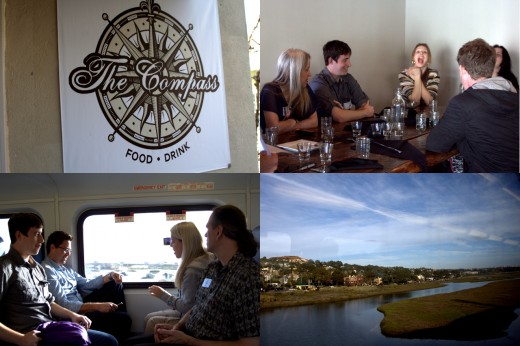 Station 3: Carlsbad's The Compass
Now even happier and chattier than before, everyone unloaded from the train into the coastal village of Carlsbad. As we walked to our final stop, Stephen gave us a quick history of Carlsbad and its special liquid resource, mineral water. After waving hello to a LJWT wine tour group at the Witch Creek Winery, our lively group of new friends sat down at The Compass for a few more samples, mac and cheese (that my brother loved), and good conversation before heading back south on the train to San Diego and the weekend.
As I reflect back on the fun I had, I especially appreciated how Stephen and Patricia made sure everyone received the chance to both sample a beer style they loved and one they had never tried. As a local, the tour also introduced me to new local restaurants (my brother has decided to return to The Compass for his birthday in May) with a large selection of taps allowing San Diegans and visitors the chance to sample many local beers in one place.
Whether you are in the mood for beer or wine, LJWT has you covered with even more great tours:
– Wine Train Tour
– San Diego County Wine Tours
– Beer and Wine Walking Tours
– Special Holiday Tours
So what are you waiting for? Call LJWT, get on the train and enjoy all that San Diego has to offer.
Tell me in the comments below: Where is your favorite place to grab a drink while in San Diego?
PS. Stop by Bine and Vine in San Diego's Normal Heights Neighborhood for a great selection of bottled beers and wines. Ask for Stephen and tell him Brent sent you!