I know most people don't like it (especially San Diegans), but every once in a while it rains in San Diego. Trying to tan on the beach may not be the best option but there are plenty of other fun and exciting things to do throughout the county. Here are just a few ideas of things to do until the sun comes back out.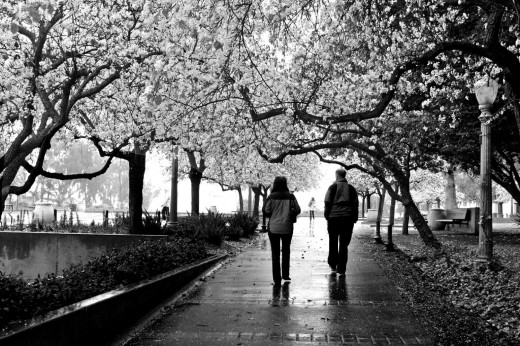 It's Raining Culture
There are tons of great museums and cultural institutions throughout the county and almost all of them are indoors. The entire family can spend a whole day exploring the museums of Balboa Park and staying dry (minus the time it takes to move from museum to museum). Pick up the Balboa Park Passport or Stay-for-the-Day Pass that provides admission to multiple museums and saves you money at the same time!
For those with little ones, stop by The New Children's Museum in downtown San Diego for hours of hands-on fun. If you are staying in the North County, the San Diego Children's Discovery Museum sneaks in education with interactive exploration. A few other options include the Birch Aquarium at Scripps in La Jolla or the Museum of Making Music in Carlsbad.
During the week you can also stop by one of the great local libraries for some fun kid oriented activities or to just pick up a book and relax.
Dining in the Rain
Okay, you probably don't want to actually dine outside in the rain, but there are plenty of restaurants and pubs in San Diego that allow you to enjoy the sound of rainfall while staying warm. The Coronado Brewing Company is one of my favorite places to grab a bite to eat with a local craft beer as the rain falls outside. Ask for a table next to one of the fireplaces and then just stare out the open windows and enjoy.
If you are looking for a warm caffeinated beverage, pop in to a local coffee shop and warm yourself up. Many of these places also offer free wi-fi so you can get some work done or like San Diego on Facebook.
A Storm of Exciting Blockbusters
It is almost a San Diego pastime to catch the latest blockbuster film while the skies pour down on us. Fashion Valley's movie theater has 18 screens so you are sure to find something everyone can enjoy. If you are in downtown, Horton Plaza's multiplex is a great option for a mid afternoon movie followed by some shopping and dining. No matter where you are in the county, you can always find multiplex theater nearby.
Tell us in the comments below, what is your favorite thing to do during a rainy day in San Diego?