A few things are synonymous with San Diego. While our perfect weather and gorgeous beaches are prevalent in any conversation about San Diego, there are several attractions that are also inevitably mentioned when speaking of America's Finest City. SeaWorld San Diego is one such attraction, as iconic as the destination itself.
Popular with adults and kids alike, I sheepishly admit that I didn't set foot in SeaWorld until I had a child. Now we are season pass holders and frequent the park, even if it's for an hour to catch the exhilarating One Ocean show featuring Shamu, or the crowd pleasing Pets Rule show.
Some features of SeaWorld that we haven't fully experienced yet are the roller coasters. With the height requirement of 42 inches, our daughter (turning five this month) has been greatly motivated to eat her vegetables so that she can grow quickly, and experience the Journey to Atlantis ride. Each time we visit the park, we stand by to watch the great splash created by the ride's 60-foot plunge. With each drop we witness, she squeals with excitement as her eyes fill with determination to grow taller so she can experience the thrill for herself.
She has one more inch to go, and will probably be tall enough by early summer just in time as the newest of SeaWorld's ride, Manta opening in May.
SeaWorld San Diego offers a range of rides, from the thrilling and exhilarating roller coasters, to rides that are perfect for chilling, and a few that are for designed especially for the 'lil ones. Here is a list of all the current and upcoming thrills and chills you can experience.
Heart-Pounding Thrill Rides
Height Requirement for these rides are 42″ (107 cm) or taller. Guests between 42″ and 48″ tall must be accompanied by a supervising companion (14 years of age or older) sitting beside them.
1.  MANTA – Opens May 2012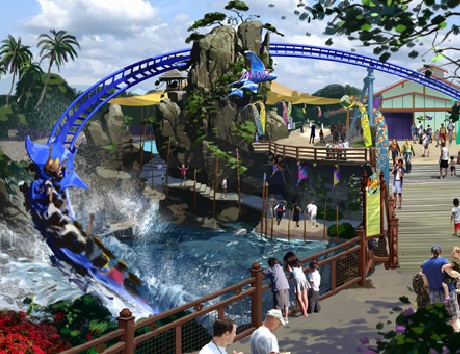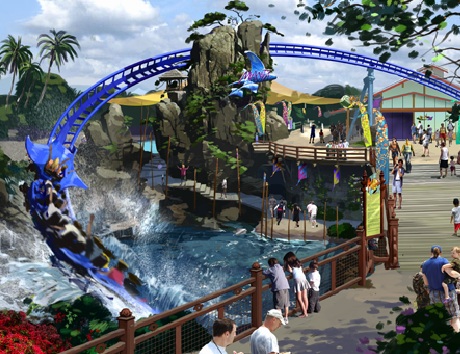 Manta is SeaWorld's first multi-media double-launch coaster that delivers thrills you can only experience at SeaWorld San Diego. This highly anticipated new coaster takes you on an immersive journey through the sky and sea, as seen through the eyes of the Manta ray. As you climb aboard, the ride will have you gliding, spinning and soaring at top speeds in a way that only SeaWorld can deliver.
2.  Journey to Atlantis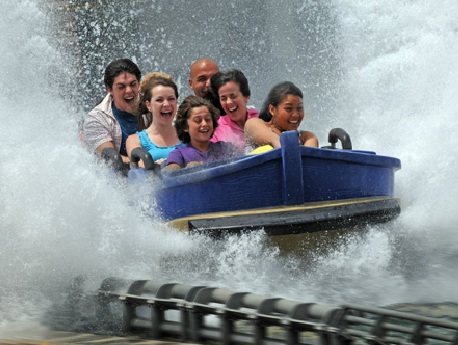 Be transported to a lost civilization on Journey To Atlantis. The ride begins with a 60-foot plunge into water, and ends with face-to-face sea animal encounters. Lines are shorter early in the morning, and around Shamu and Blue Horizon show times.
3.  Shipwreck Rapids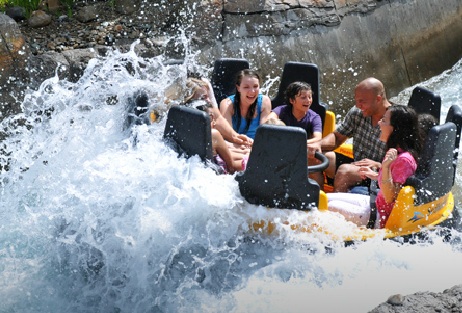 Be cast away on this tube-style raft ride as you experience the thrill of winding down a rapid river. Whirls, swirls, splashes and crashes await as you plunge through a waterfall into an underground cavern. Onlookers can drench castaways on the rafts with six water cannons that are placed on the main pathway between the ride's entrance and the Cirque de la Mer stadium.
4.  Wild Arctic Ride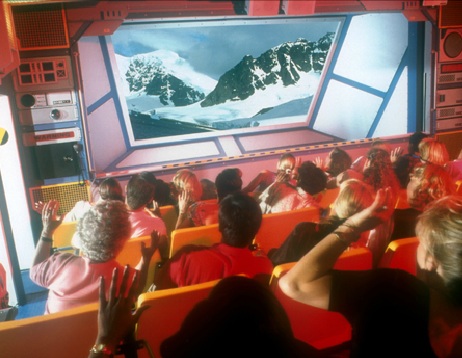 This ride combines the mesmerizing features of a flight simulator with a thrilling adventure aboard a jet-helicopter. Soar through the Arctic Circle as you take in breathtaking views of perilous, icy landscapes. Put yourself in your pilot's hands as he maneuvers treacherous frozen peaks and valleys en route to Base Station Wild Arctic.
5.  Riptide Rescue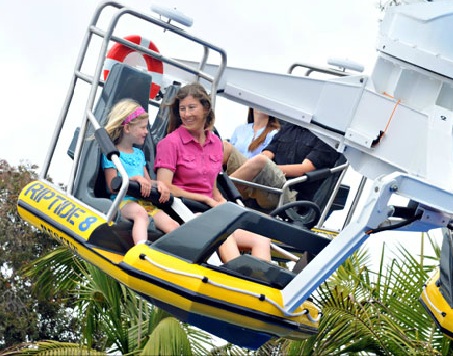 Experience your own sea turtle rescue mission as you climb aboard the yellow rafts of Riptide Rescue. But hold on—like SeaWorld's actual rescues, it can be a wild ride! This ride requires guest to be 50″ tall to ride independently. Guest between 45" and 50" tall must be accompanied by a Supervising Companion (14 years of age or older) sitting beside them.
Chillax and Take in the View
6.  SkyTower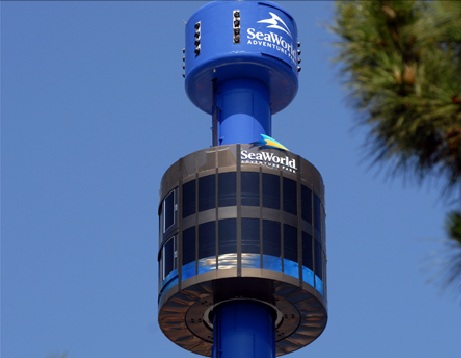 Take a ride high above SeaWorld for spectacular 360 degree views of the surrounding areas of Mission Bay and beyond. Sit back and enjoy a leisurely ride up the tower as the platform spins at a slow and steady pace, revealing spectacular views that stretch out to  Pacific Ocean and the gorgeous downtown San Diego. With clear skies, you can see up to a hundred miles in every direction.
7.  Bayside Skyride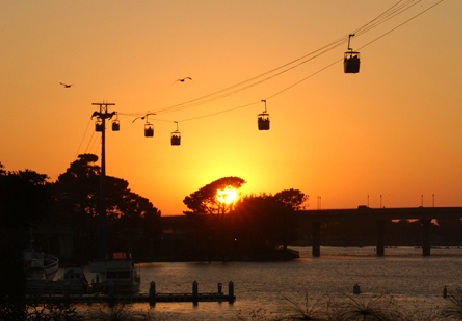 This gentle two-way gondola ride takes you on a relaxing six minute journey as you float above the tranquil waters of Mission Bay. Catch the ride around sunset for spectacular views of the Bay and the Pacific.
Fun Rides for the 'Lil Ones
For toddlers and younger kids, there are still some joyful rides at the Sesame Street Bay of Play, located in the heart of SeaWorld.
8.  Elmo's Flying Fish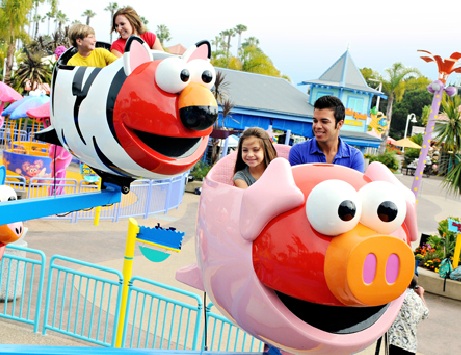 Kids love this up and down ride that takes them across an imaginary ocean. With fish-shaped carriages that looks like adorable Elmo, younger kids will enjoy watching as much as riding in them.
9.  Abby's Sea Star Spin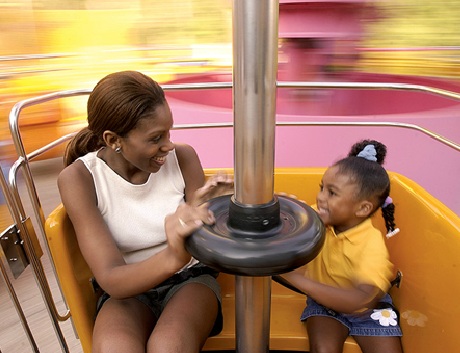 For some whirling and twirling fun, enjoy this classic spinning teacup ride. How much you spin is up to you, as you control with the wheel at the center of your starfish-inspired riding cup.
10.  Oscar's Rocking Eel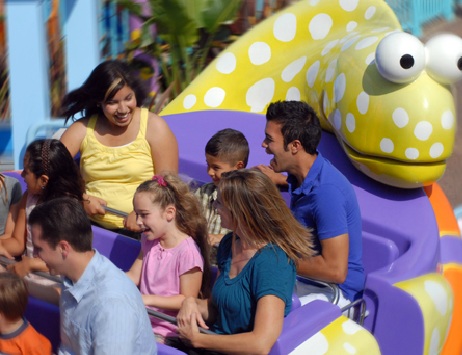 Oscar the Grouch might be grumpy, but his eel pal is one slippery character! Hang on as he spins and slithers you along on a side-to-side slide of an adventure.
Want to take a ride for yourself? We are giving away four (4) one day admission passes to SeaWorld San Diego, good through 6/30/2012. Leave a comment on this blog post by 10:00 am P.S.T. on Thursday March 8, 2012 for a chance to win.