Stroll through one San Diego's seaside towns and villages, and you may feel like you've stepped back in time. Along the North County's Coast Highway, the vintage surf culture of Encinitas might have you expecting to see the original Beach Boys stepping out of a taco shop. At Mission Beach, the red and white-painted slats of Belmont Park's wooden rollercoaster call to mind a bygone era when the beach boardwalk was king. But if you're looking for vintage glamour, head straight to La Jolla, where a collection of historic hotels will fill you with the romance of Old Hollywood.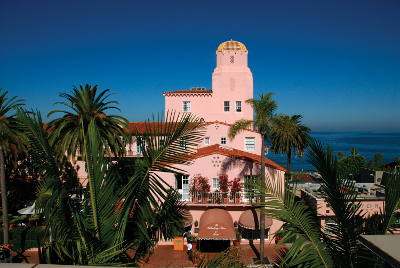 Often referred to as La Jolla's "Pink Lady," the elegant and charming La Valencia hotel sits atop Prospect Street, offering breathtaking views out to La Jolla Cove. The only thing more sparkly than the Pacific Ocean outside the hotel's enormous picture windows is the cast of previous occupants – before heading into the Whaling Bar for a perfectly poured martini, stop to admire the photos of Old Hollywood stars that frequented to the hotel in the first half of the 20th century, including Clark Gable, Mary Pickford, Groucho Marx and Greta Garbo.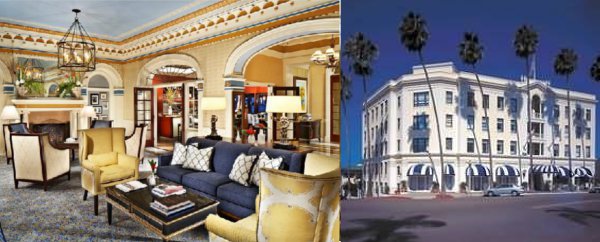 Opened in 1913, the Grande Colonial Hotel is La Jolla's oldest original hotel property. Bright blue and white awnings jutting out from a sunny colonial-style building beckon visitors to see why celebrities like Charlton Heston would stay at the hotel when in town to perform at the world-renowned La Jolla Playhouse. Once inside, the lobby is every bit as glamorous as when it first opened, thanks to a recent renovation and fresh design update.


Few things are more glamorous than staying in a resort right on the beach, and that's what you'll get at the La Jolla Beach & Tennis Club, where guest rooms literally open onto the sands of La Jolla Shores. Don't miss the resort's signature restaurant, the Marine Room. As you enter through the discreet wooden front doors and descend the sweeping staircase into the dining room, you'll know why the Marine Room as been a favorite for celebrities and world leaders alike for more than 70 years.
Tell us in the comments below, where is the most glamourous place in San Diego?