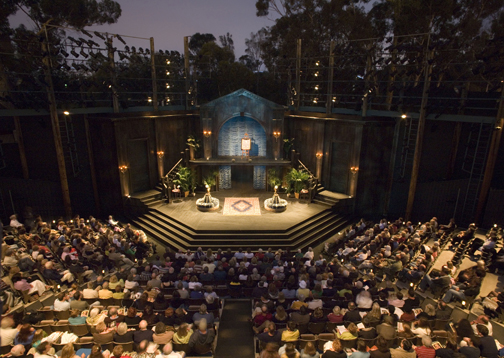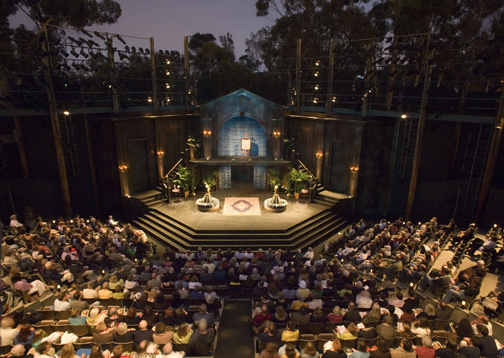 Looking for an evening filled with culture and cool? Enjoy the San Diego's best scenery under stars and stage lights now through September 30, 2012 at the Old Globe's world-famous Summer Shakespeare Festival. Only open for the summer festival, the outdoor Lowell Davies Festival Theatre is set against a backdrop of spectacular Balboa Park, nestled among beautiful eucalyptus trees. This summer includes three classic plays: William Shakespeare's "Richard III" and "As You Like It" and Jerome Lawrence and Robert E. Lee's "Inherit the Wind." Interested? Comment below to win two tickets to see Richard III.
Richard III
June 3 – September 29
The title character of Richard III is one of the most diabolical and outrageous villains in all of literature. A ruthless Machiavellian, the brilliant and power-hungry lord embarks on a bloody campaign to seize and keep the English crown. Shakespeare paints an unforgettable portrait of obsession, seduction, betrayal and a man who would be king.
As You Like It
June 10 – September 30
Flirtation, friendship and mistaken identity make for one of Shakespeare's most beloved comedies in As You Like It. Rosalind escapes into the forest and adopts the persona of a man to get close to her beloved Orlando. But when he falls for another woman, she must untangle the web of deceptions she has woven to win her true love. As You Like It explores the giddy excitement and dizzying foibles of love and is a perfect summer night under the stars.
Inherit the Wind
June 17 – September 25
In Inherit the Wind, two powerhouse lawyers face off in a small town with the eyes of an entire nation upon them when a schoolteacher is arrested for teaching Charles Darwin's theories of evolution. When the issue goes to trial, the two attorneys must passionately confront questions of faith and science in a heated courtroom. This fictional re-creation of the infamous Scopes Monkey Trial tackles issues that are every bit as relevant today as they were in 1925.
"Can one desire too much of a good thing?" Not if it is 2 tickets to see Richard III at the Old Globe this summer! Comment below for a chance to win. Winner will be chosen at random at 10:00 am PST on Tuesday, June 19, 2012. Tell us, what's your favorite Shakespeare quote?