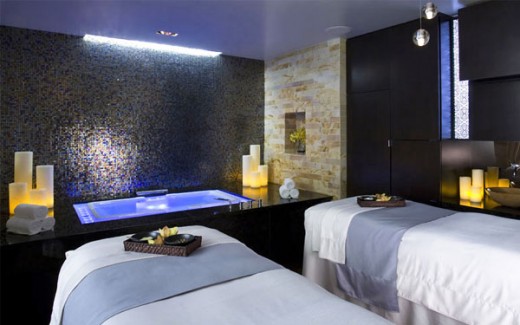 One of my favorite spas, the Se Spa inside the Hotel Palomar San Diego, just launched a new promotion to celebrate the summer (and the NT Times #1 bestselling book 50 Shades of Grey), with their '50 Shades of Summer' promotion.
The promotion includes a choice of 50-minute discounted servcies including:
* 50 minute Pedicure: $50
* 50 minute Body Treatment: $85
* 50 minute Facial: $85
After each treatment, guests will enjoy a complimentary Red Room Martini (recipe below) in the spa's Silk Lounge. The spa's Silk Lounge, a private relaxation lounge, offers an additional dose of 'aaaah,' with a courtesy Soma Shot, a delicious blend of cucumber vodka, agave nectar and blueberry pomegranate juice, along with herbal teas and healthy snacks.
Red Room Martini
1.5 oz Cucumber Vodka
1 oz Pomegranate Juice
.5 oz Lemon Juice
2 oz Soda