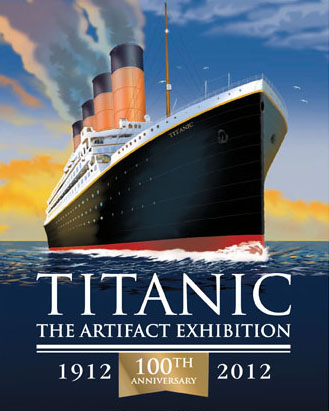 Visit Titanic: The Artifact Exhibition at San Diego Natural History Museum before it sets sail September 9! This educational and emotional exhibition takes visitors through the entire journey of the iconic ship and features 200 artifacts recovered from Titanic's wreck site. Once the exhibition leaves San Diego, there are no current plans for it to return to a West Coast city, so see it while you can! Tickets are $27 for adults and discounts for children, students, seniors, museum members, military and groups of 10 or more are available.
Visitors to the highly anticipated blockbuster exhibit will receive a replica boarding pass granting them permission to "board" the White Star Line's R.M.S. Titanic, and from there the journey begins. The galleries focus on the legendary Titanic's compelling human stories as best told through authentic artifacts recovered from the ocean floor and extensive room re-creations. Perfume from a maker who was traveling to New York to sell his samples, china etched with the logo of the elite White Star Line, even pieces of the Ship itself, and many other authentic objects offer haunting, emotional connections to lives abruptly ended or forever altered.
Here's your chance to go for free! Comment on the blog below by Monday, September 3, 2012 at 10:00 AM PST and one lucky person will win two tickets to see this amazing exhibit. Please include your email address (not in the comment itself) so we can contact you if you are the winner.