[youtube http://www.youtube.com/watch?v=Zql4pYFeVeQ]
For 57 years, Marine Corps Air Station has opened its gates for a weekend full of super-sonic flight, daring aerial acrobatics and amazing nighttime pyrotechnics. The Miramar Air Show, bestowed with the honor of "World's Best Military Air Show" by the International Council of Air Shows in 2007, is the largest military air show in the nation and a sight not to be missed.
Daily at the Miramar Air Show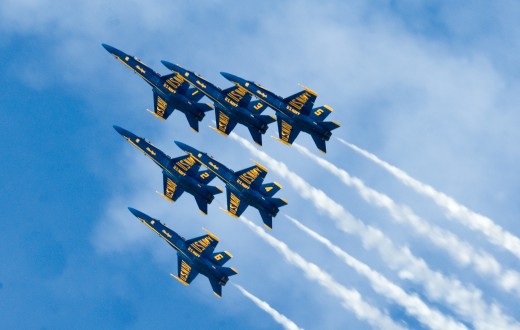 Each day at the Miramar Air show is an aviation enthusiast's dream. Over 100 planes sit on the runway waiting to be explored while F/A-18s and F-22 Raptors alongside historical aircraft including B-25s and P-51s flyby overhead. Make sure to stick around for the Marine Air-Ground Assault Demo at 12:30 PM and the pièce de résistance at 2:45 PM, the Blue Angels.
Miramar Air Show's Saturday Twilight Show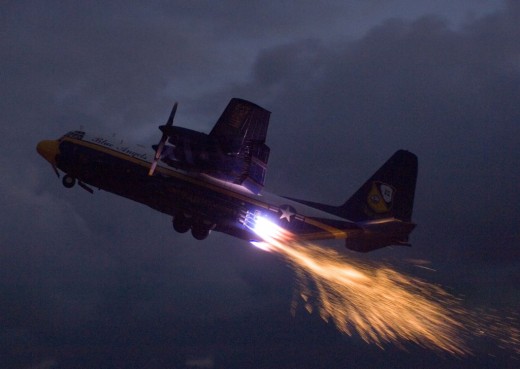 The Saturday Twilight show is a sight to see with plenty of excitement including a jet car, F/A-18s afterburner passes, a special effects powered glider and the infamous Robosaurus! But the Marines aren't done yet, they cap of the night with a spectacular fireworks display and the amazing Great Wall of Fire. You have to see it to believe it.
What to Know About the Miramar Air Show
What to Bring: Blanket seating is free so feel free to bring beach chairs, blankets and hand-held umbrellas. You can also bring a small cooler of snacks and non-alcoholic drinks. It can get warm so be sure to bring hats, sunscreen and plenty of water.
Parking: Give yourself plenty of time to get to MCAS Miramar. Entrance to the parking areas can quickly back up, especially as it gets closer to the afternoon and twilight shows. There will also be bicycle parking for those looking to avoid the long car lines.
> Parking Instructions and Maps 
Where: MCAS Miramar (directions)
Dates: October 12-14
Times: 9:00 AM to 4:00 PM, Twilight Show on Saturday: 5:50 to 9:00 PM
Cost: General Admission is Free
Website: www.miramarairshow.com